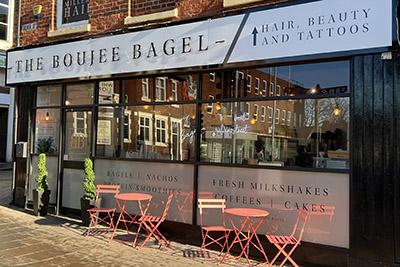 Tamworth's newest coffee shop, specialising in bagels, smoothies, coffees, cakes & milkshakes!
Bagels include The Boujee Bagel (chicken, halloumi, caramelised onion chutney and rocket), El Classico (smoked salmon, cream cheese and black pepper), Papi Chulo (chicken, cheese jalapenos and mayonnaise), Don Vito (chicken, pesto, mozarell, tomato and spinach), Keep it Simple (cheese and mayo), Big Daddy Deli (pastrami, cheddar cheese, mustard and tomato), Tuna Crunch, Peanut Power, Nutella Fella, Edgy Veggie (halloumi, avocado, rocket and mayo), Easy Cheesy, Excuse me I'm Vegan (falafel, hummus and spinach), Dilly Day (avocado, red onion, spinach, chilli flakes, salsa), On the Tools (sausage patty, boiled egg, cheese), Chacado (chicken, avacado, lettuce and mayo), Bossage (sausage patty, cheese, caramelised onion, ,chutney and rocket).
Desserts are red velvet cake, brownie bites hot or cold, Biscoff cookie bar slices and Biscoff cheescake slices.
Address
10 Silver St, Tamworth B79 7NH
Category