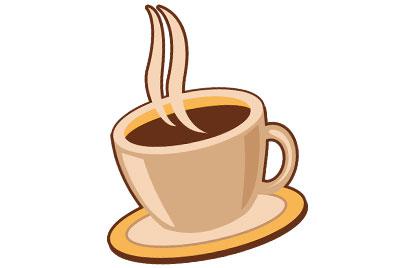 To help you mimic Johnny Cash when he sings, 'I just dropped in to have a cup coffee', we wanted to share with you our magnificent local coffee houses and cafés, so that you can drop in to enjoy a cup of coffee too.
The idea was born off the back of #InternationalCoffeeDay which takes places globally on 1 October 2020. Following this, we wanted to spend the rest of October sharing information on our local coffee houses and cafés, where you can purchase a cup of one the planet's most popular beverages and watch the world go by. Once October has ended, we still encourage you to enjoy a cup of coffee in Tamworth's local cafés. It is a great way to keep connected, whilst supporting local businesses and the community. 
Fancy a coffee?
Whether you find enjoyment in meeting for a coffee with friends or family, or simply like to enjoy some solo quiet time with a warm cup in hand, we have plenty of places for you to choose from in Tamworth town centre. This map gives you a quick glance of where you can find fantastic coffee pit stops.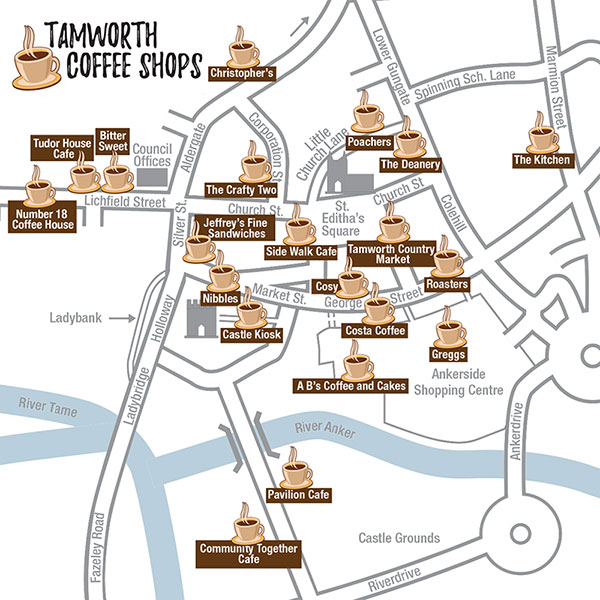 You can download a pdf of the map here, so that you can enlarge it to use at your leisure.

Throughout October, we will be sharing regular social posts to our Facebook, Twitter and Instagram telling you all about our wonderful local coffee houses and cafés. As a little challenge, why not try and visit as many of them as you can this month? We are sure the local businesses will welcome your custom and you'll get some well-earned rest time – win, win don't you think?

Coffee Stop
Just to quickly expand on the map, here is a list of local coffee parlours and cafés in and around Tamworth town centre, just so you can access their websites and social media pages to get the latest information and news directly. 

Castle Kiosk 
You will find this cute little historic coffee spot just before the entrance to the castle. It has great views of the Castle Grounds, so on a nice day, you can sit outside and take in the scenery – and the castle of course! They are open daily from 10am-4pm and have a range of tasty syrups for you to enjoy in your coffee if you fancy it. Visit the castle website page here 
Pavilion Café 
Sticking within the Castle Grounds, there is also the Pavilion Café, a great little spot with indoor and outdoor seating right by the play park. They do a great range of affordable coffees. They are open 9am-3pm each day and look forward to serving you.
Community Together CIC
Still sticking with the Castle Grounds, if you walk a little further beyond the play area and towards the tennis courts, look opposite and you will notice the CIC building. This lovely little coffee spot drop in is run by a team of wonderful volunteers. It is a great place to meet for a much needed chat, especially if you are feeling lost, lonely or down. You can also come and paint a pot, or on a Tuesday, you can receive job application support, but you will need to book that separately. As for the coffee and catch up, you can visit on Monday, Wednesday, Friday, Saturday and Sunday between 10am and 3pm. Visit the CIC on the web here 
No.18 Coffee House
If you're looking for an impressive barista style coffee, then this is your place! They have a great range of fancy coffees from mochas, to lattes, to cappuccinos and Americanos. For those who have any allergies or who are vegan, they have great milk alternatives. Dog lovers will also appreciate this lovely coffee house, as it is dog friendly. You can also make use of the outside seating area on a nice warm day. Opening times: Monday 8am–4pm. Tuesday-Saturday 8am–6pm. Visit No.18 on the web here
Roasters of Tamworth
Not only available for good hearty grub, Roasters is also a great place to sit and enjoy a nice cup of hot coffee. The friendly team are always happy to see you. They've been up and running since 1992, so they are pretty good at knowing what the people of Tamworth need in a good cup of coffee!
The outdoor seating area is right on the front in the main high street, so it is perfect to sit back and watch the hustle and bustle of our lovely little town. They are open Monday-Friday 9am-3pm. Visit Roasters on the web here
Cosy Coffee
Cosy Coffee is ultra-quirky inside, so do enjoy looking around at all the funky collectables when you visit. They have a great range of coffees on offer, and have dairy-free and allergy alternatives too.
They have an outside seating area, which is perfect for warmer days, and a great chance to sit and watch the world go by. Visit Cosy on the web here.
Tudor House Café
Lichfield Street is where you will discover this friendly family-run business with Kim and Sarah. The Tudor House Cafe will offer you a great place to enjoy a nice cup of coffee. Rumour has it, their cakes, Afternoon Tea and home-made daily specials are pretty tasty too! 
They are open Tuesday-Saturday 9.30am-3pm. There is also an outdoor area for you to enjoy when the weather allows. The décor inside is vintage and cosy. Visit the Tudor House on the web here.
Poachers Café Bistro
Set in the pretty cobbles of Lower Gungate, Eileen and the team at Poachers will welcome you with big smiles and a great menu. They also have a nice little courtyard seating area for extra space outdoors. They offer a great range of coffee and tasty food. Keep an eye on their daily specials – we have heard VERY good things. 
Opening hours are from 9am-3pm Monday-Saturday. Visit Poachers on the web here 
The Kitchen Café
Tucked away just slightly outside of the town centre on Marmion Street (but still very much in walking distance) is the fabulous Kitchen Café, run by Kate and her great team. They offer delicious breakfast coffee with your favourite fry up. Even if you miss breakfast, their brunch and lunchtime menu will be well complimented with a large mug of freshly brewed coffee. They are open Monday-Friday 8am-4.30pm, Saturday, 8:30am until 4:30pm, Sunday 9am until 3pm
Visit The Kitchen on the web here
The Deanery
A lovely family-run business with the Niblett family, who have been open since 2014. This lovely café is set in the heart of Lower Gungate. They have a great outdoor space, which is especially nice on hot summer days when you want to be outdoors, but are seeking a little shade.  
The team here will be more than happy to serve you a nice warm cup of coffee – and whilst you're there, why not try one of their tasty specials or a nice home-made cake?
You can visit Monday-Friday 9am-2pm and Saturday from 8:30am-2pm. Visit The Deanery on the web here.
Jeffrey's Fine Sandwiches
Don't be misled by the name (although, their sarnies are pretty epic), they also offer lovely coffees either to sit in, sit outdoors or to takeaway.
Jeffrey's is another one of Tamworth's fine family run businesses, with Lorna and her sister-in-law Lynn working hard to serve the people Tamworth. They first started their business in May 2017 and have enjoyed a fruitful three years in the town. They are open Monday-Saturday 9am-3pm. Visit Jeffries on the web here.
AB's Coffee and Cakes
Right in the thick of it in Ankerside Shopping Centre, you can earn yourself a coffee break from all the retail therapy by popping to AB's Coffee and Cakes.
There is ample seating and the café is right by the exit which takes you to the Castle Grounds if you fancy calling in before or after a stroll. They are open Monday-Saturday between 10am-6pm. Visit AB's on the web here.
Christopher's
Christopher's is located in Aldergate, and you can sit inside or sit outside in their pretty courtyard which gives a great view of the town passing by. 
Sarah and the team here have built up a great list of regular customers, who come for the great coffee, fabulous food, drinks and of course, the friendly service. 
The easiest way to keep up-to date with their latest news and information, is by going directly to their Facebook page.
They also use coffee beans from local suppliers. Visit Christopher's on the web here.
The Crafty Two
If you're looking for a lovely coffee to sip whilst taking in the ambience around you, then the Crafty Two on Corporation Street is the ideal place.Shabby, chic, rustic and stylish, the décor of this unique venue creates a comfortable place for you to enjoy a coffee, and also a delicious slice of cake. If you are more of a savoury lover, then their food menu will compliment a good cup of coffee! Don't forget to check out the urban garden and covered barn – two great spaces to enjoy a coffee and chat. Visit The Crafty Two's website here.
Tamworth Country Market
If ever there was a place to enjoy local company, buy local produce and sit and enjoy a lovely cup of coffee and a home-made cake, then this is the place!
Tamworth Country Market can be found nestled away in the Church Hall, and has a café located inside. They have decaf coffee bags available should you need them. The friendly team will be delighted to see you.
As they are only open on Fridays from 9:30am-1:15pm, you will want to get there swiftly before the cakes to accompany the coffee have all gone. Visit Tamworth Country Market on the web here
Greggs 
If tasty pastry is right up your street, then Tamworth has a few Greggs for you to choose from to tick your coffee and pastry box. It is best to check each individual one for latest menu, pricing and opening times. Visit the main Greggs website here  and put Tamworth in the shop finder for Greggs Ankerside, Greggs Town Centre and Greggs Ventura Park.
Costa Coffee
One of the nation's best known coffee brands has also set up shop in Tamworth. You can always count on Costa for a good cup of coffee. The main Costa website shares the latest updates, opening times and news.

Lovely cup of coffee
We are aware that we haven't covered every Tamworth café on this list, so if there is a particular coffee place that you enjoy, please do get in touch and we can add this to the list. We are always pleased to hear from you. More details can be found on the Eat & Drink pages of the Visit Tamworth website

We hope you enjoyed discovering where to get your next Tamworth coffee fix. If you are out and about in Tamworth enjoying a hot cup of coffee, then please do tag us on one of our Visit Tamworth social media channels. Enjoy!