Discover fantasy Tree Trail tales at Wigginton Park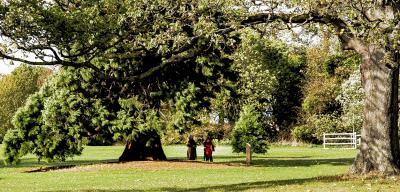 Wigginton Park is now home to a brand new Tree Trail for families to follow and discover mythical stories and tales, as well as finding out about local history and different species of trees.
The Wigginton Park 'Tree Trail' captured the imagination of Tamworth residents following a series of workshops with local groups and schools last summer. The community project   developed a 'tree trail' of fantasy stories and characters which was launched at an exciting live event in Wigginton Park on October 13.
The Tree Trail leads you through Wigginton Park where visitors will learn more about the nine trees on the trail. A booklet is available to download from the Tamworth Borough Council website so people can follow the trail and discover each tree's story whenever visiting the park.
More information on Wigginton Park and the trail leaflet can be found at: www.tamworth.gov.uk/treetrail.
The idea is that visitors to the park will be able to find the trees on the trail and discover their individual stories and a tree 'character', including 'Woody Barker', 'Bok the Oakman' and the 'Graffiti Tree', as well as finding out about the tree species.
The Talking Leaves Tree Trail project, developed and supported by Tamworth Borough Council, Staffordshire Wildlife Trust, the Friends of Wigginton Park and MD Creative, worked with local groups since July 2017 to create a collection of stories about carefully selected trees around the park.   
Cllr John Chesworth, Cabinet member for Culture and Operational Services, said: "This exciting project has involved local groups to create stories that will inspire, educate and relate the community with the park land and the tree species. Children as young as two and adults up to 70 have all been able to contribute their ideas and designs.
"The groups have worked hard to create an exciting adventure that families can enjoy when they visit the park. Each group took part in workshops featuring crafts, discussing features, myths and legends surrounding their tree to create the story 'character' and its traits.
"The Tree Trail is a wonderful new addition to Wigginton Park and will be a great way for people to spend some time outdoors with the family as they hunt for the trees and discover more about this local beauty spot. We hope it will encourage more people to visit and enjoy this hidden gem."