Free festive parking back in the run up to Christmas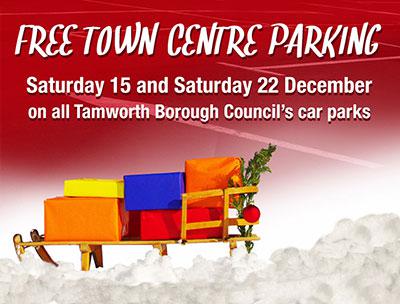 Parking will again be free in Tamworth Borough Council run car parks on the two Saturdays leading up to Christmas.
The free festive parking initiative returns this December in a bid to maximise town centre trade during the busy Christmas season.
Charges will be waived in all Tamworth Borough Council car parks on the two Saturdays leading up to Christmas – December 15 and December 22. Ankerside Shopping Centre is also offering free parking in its car park on those two Saturdays. Please note the offer does not apply to the NCP car park on the site of the former Gungate Precinct.
It is hoped the initiative will encourage more people to come into the town centre to do their Christmas shopping.
Tamworth Borough Council Deputy Leader, Cllr Rob Pritchard, said: "We are keen to support the town centre, especially at important times like Christmas. We made the decision to waive parking charges on these two very busy shopping days a few years ago because we want to support traders and boost town centre trade, and it has worked well.
"It gives us a real opportunity to attract new visitors to Tamworth and to support our businesses by demonstrating what the town has to offer. We hope people are supporting the town centre anyway, but perhaps this will give shoppers an added incentive to use their local shops, maximise the peak season and get into the Christmas spirit in Tamworth."
For more information and a map of town centre car parks, please visit www.tamworth.gov.uk/car-parks.