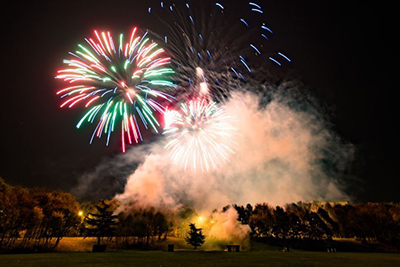 Winter is a magical time and Tamworth has the perfect setting for that crisp wintery walk along with a jam packed line up of exciting events of spooky tales, fireworks, Christmas lights, Remembrance parades and proms, an attack of art and music concerts are just a few of the highlights coming to Tamworth this season.
If you fancy getting creative in art with a difference, then you will enjoy the return of 'Art Attack', part of The Big Draw Festival 2018, which is returning to towns all over the UK. The world's biggest drawing festival was brought to the town for the first time last year and Tamworth Borough Council's Arts & Events team were proudly honoured with the 'Community, Participatory and Libraries Award', sponsored by The Arts Society, for an 'outstanding event' that brought the town centre to life with art and creativity last October.
Explore Tamworth's rich heritage or join the spooky fun at Tamworth's award winning castle. There's lots of spooky fun happening at Tamworth Castle this Halloween, from daily haunted castle activities, to a fun evening of spooks and thrills for children and a ghost search vigil at midnight. Then why not return in December and help the Victorian household prepare for Santa's visit?
Secret Symphony will be returning to St. Editha's Church on October 13 to present a spectacular show to commemorate the ending of WWI and celebrate Womens Empowerment.
Tamworth Borough Council's winter season of Arts & Events offers a variety of entertainment to suit all tastes, from concerts  to Fireworks and Christmas Lights. This year's line-up includes, theatre productions, live Christmas concert music and the spectacular fireworks extravaganza.
The return of the Fireworks display will be on November 3. A breath-taking display of pyrotechnics, accompanied by fire performers, face painting, fun fair and food stalls for the whole family to enjoy.
A special 'We Will Remember' service takes place on November 11 at the War Memorial, St Editha's Church and the Castle Grounds. Join a day of Remembrance, parades, poppies, church services and choir performances. The parade will start at 10.45am from the Ladybridge, followed by the service and wreath laying at 11am. The parade will then continue to make its way towards the Castle Grounds where marchers will be greeted by a stunning display of more than 2,000 poppies cascading down the castle wall.
The popular annual Christmas Lights Festival is planned for November 25, promising a jam-packed day of festive fun for all the family. Activities will include fairground rides, treasure hunt, crafts, live music, Christmas market, walk about characters, dance performances and face painting; not forgetting Father Christmas who be joining in the fun and excitement
Christmas cheer will warm everyone's hearts on December 5 at St Editha's Church. Tamworth Assembly Rooms 'On Tour' presents Tamworth Voices, in aid of The Mayor's Charity.This will be followed by the return of The Mercian Singers on December 15 at Wilnecote Parish Hall, for an evening of seasonal festive songs.
The programme would not be complete without the spectacular Christmas pantomime. This year Tamworth Pantomime Company presents Dick Whittington on December 13 – 23 at Landau Forte Academy QEMS. A guaranteed evening of fun and laughter, oh yes it is!
Don't forget that as well as Tamworth's own 14 nature reserves; the town is bordered by a number of parks which hold their own winter, half term and Christmas events which are brilliant for families. These include Kingsbury Water Park, Pooley Country Park and Heritage Centre, Rosliston Forestry Centre and Conkers Discovery Centre.
Visit our What's On page for full details.