Still time to enter this year's Tamworth in Bloom resident's competition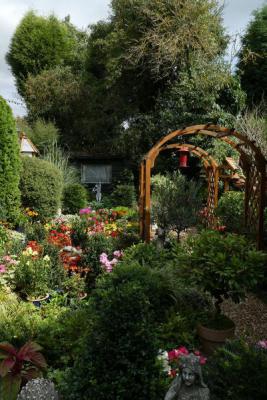 It's raining, it's pouring and one thing loving it is our gardens! Is your garden bursting into colour and growth ready for this year's Tamworth in Bloom garden competition?
Garden enthusiasts are being invited to show off their green talents and enter this year's competition this summer, before the closing date on Wednesday, July 31.
Each year, Tamworth Borough Council holds a 'Best in Bloom' competition to encourage green-fingered residents in the borough to make their gardens blooming marvellous and help Tamworth go for gold again.
Whether it's a huge garden with wild flower beds and statues or just a small square of grass, a hanging basket or a window box, gardeners can help Tamworth to strike gold for the 10th year in a row in the Heart of England in Bloom competition.  The winner will receive a top prize of garden centre vouchers.
Last year's individual garden competition attracted a large number of entries, and the standard was extremely high. Linda Jackson of Litton in Stonydelph, was named the winner with her stunning garden that she has spent 20 years growing and shaping into a little 'wildlife haven' which includes a huge variety of colourful flowers, planters, evergreens, trees, ornaments and figurines.
It doesn't matter whether you are an experienced gardener, a complete beginner or somewhere in between – we'd love you to enter this year's competition.
Tamworth Borough Council is celebrating this year's Tamworth in Bloom campaign with the theme of 'Blooming Tamworth' – More than just flowers; with the focus on celebrating everything that is great about Tamworth including its community, events and history.
Cllr John Chesworth, Tamworth Borough Council's Cabinet member for Culture and Operational Services, said: "We would like to see as many people as possible getting involved in this year's gardening competition, because the most important part of Tamworth in Bloom isn't the flowers, it's about working together in the borough and doing our bit to make Tamworth a place to rightly be proud of.
"We could not have won gold for the past nine years without the hard work and support of the Tamworth community, who put so much time and effort into making the areas where they live and work look superb."
To enter this year's individual garden competition, just take a picture of your garden and either email it to Garden Competition at graphics@tamworth.gov.uk or drop a copy in to reception at Marmion House in Lichfield Street.
The closing date for entries for the competition is 12 noon on Wednesday July 31st and the winner will be announced mid- August.