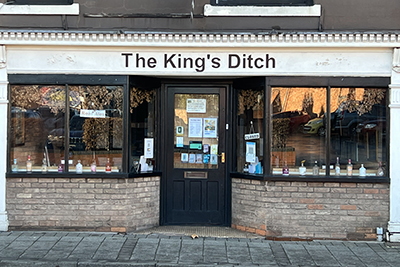 Specialising mostly in local ales, The King's Ditch is Tamworth's first micropub.
Four to six gravity-served ales straight from the cask are complemented by Twenty Five real ciders, Six Fruit Ciders and Three Perries, all carefully chosen by our passionate team. The Beer and Cider being served from a chilled room at approx. 12 degrees centigrade.
The King's Ditch is characterised by its simple but modern bare brick and wood interior. We have a single ground floor room and a small drinking area upstairs, accommodating around 40 people. We don't have any fruit machines, TVs or music – we simply have a warm and friendly atmosphere where people can enjoy real ale and good conversation.  Please note!  Children are welcome, to sit and not race around, until 7pm. Dogs are also welcome as long as they bring their owners.
We look forward to welcoming you to The King's Ditch soon!
Address
51 Lower Gungate, Tamworth B79 7AS
Website
Category