Canterbury Tales: Geoffrey Chaucer's medieval literature classic coming to Tamworth Castle during summer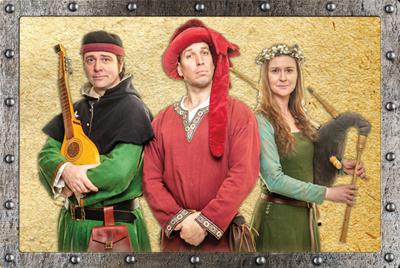 June 8th 2021
Tamworth's literature lovers are invited to visit Tamworth Castle this summer to watch a live performance of Geoffrey Chaucer's late 14th century collection of stories, The Canterbury Tales.
The medieval theatre experience, presented by GreenMatthews, is scheduled to take place on Thursday, August 5, and is based on the storytelling contest of a group of pilgrims travelling from London to Canterbury to visit the shrine of Saint Thomas Becket at Canterbury Cathedral.
The production will present six of Chaucer's best-loved tales including The Wife of Bath's Tale, The Clerk's Tale, The Friar's Tale, The Manciple's Tale, The Franklin's Tale and The Pardoner's Tale. And Tamworth Castle's ancient walls, combined with the medieval mystery of these well-loved plays, makes it the ideal setting for a memorable evening.
The live experience will take visual inspiration from medieval mystery plays and contain a touring set specifically constructed to resemble a medieval travelling theatre. This will be complete with a three-man cast who use drama, verse, physical theatre and song to bring Chaucer's characters and the strange situations they encounter to life.
The event is set to start from 7pm with a twilight tour of Tamworth Castle and the audience being expertly guided around the rooms filled with rich and fabulous history. At the top of the castle, they will be treated to spectacular 360 views of the Castle Grounds as well as the surrounding Tamworth town – including the historic St Editha's Church.
As part of the tour, people are invited to view the Castle's newest state-of-the-art interactive 'Battle and Tribute' exhibition – which includes a mead hall, an engaging combat film experience and a special touch-table strategy game - paying homage to the town's rich Anglo-Saxon history.
After completing the tour, visitors will have the chance to enjoy refreshments before the live performance begins at 8pm. The audience will then be seated in the castle's Great Hall, which provides a special and intimate edge to the medieval theatre experience with its Jacobean walls, leaded windows and beautiful wooden beams.
This theatre experience is one of many outdoor events organised by Tamworth Borough Council's Art & Events team. Tickets are priced at £15 per person. 
Cllr Robert Pritchard, Deputy Leader of Tamworth Borough Council, said: "After being closed for so long due to the pandemic, it's been amazing having the castle open to visitors again, who are really enjoying being able to visit, and particularly to see the new exhibition.
"We're now delighted to also be able to start hosting events again. The castle is a superb setting for a bit of theatre and this show definitely promises to bring the drama."
All events are subject to COVID-19 restrictions and may be postponed or cancelled, if required.
It is also important to note that the show is unsuitable for anyone under the age of 12.
Book now: Whats on rv | Tamworth Arts and Events