Discovering parks, walks and cycle routes in Tamworth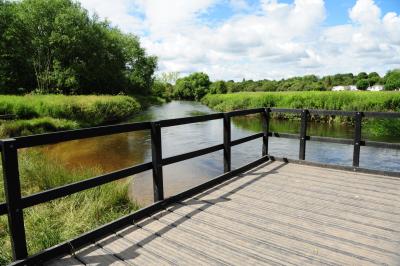 Summer may be drawing to a close, but as we anticipate the arrival of autumn there's no better time to get out and about in the great outdoors around Tamworth.
The town has a wide variety of parks, nature reserves, cycle routes and walks to explore for people of all ages who want a free day out in the fresh air.
You don't need to go far at all to see something new – did you know for example that Tamworth boasts six designated Local Nature Reserves, all of which are home to some fascinating wildlife habitats?
Walks around Tamworth
Tame Valley Wetlands has put together 10 circular walks, all located around the Tamworth area. These self-guided walks come with a detailed map and clear directions that are easy to follow, so there is no fear of getting lost.
There are walks varying from 1.5 miles to 7 miles and each is given a difficulty level, so you can choose the route best suited to your ability or mood.
The town centre walk, for example, takes in the main cultural and historical points of the town centre as well as highlighting the natural beauty that Tamworth has to offer. The route showcases Lady Bridge, Tamworth Castle, the statue of Aethelflaed, a WW2 pillbox, and the Grade 2 listed Moat House, ending in the picturesque Castle Grounds where the beauty of the flowerbeds, planted as part of Tamworth in Bloom, can be appreciated. For more information about Tame Valley Wetlands circular walks, please visit www.tamevalleywetlands.co.uk/circular_walks/. 
Parks and nature reserves
If you would prefer a walk without a set route, Tamworth's variety of nature reserves are perfect for a stroll all year round. As a borough, Tamworth has 14 wildlife sites, six of which are designated as Local Nature Reserves. Information about each individual site and what wildlife can be found there is available at www.visittamworth.co.uk/nature-reserves-country-parks.
These parks offer a perfect opportunity to get closer to nature and see what wildlife you can find in your local nature reserve, in a lovely afternoon out for the whole family. Why not bring the dog along too? The Walk on the Wildside Leaflet gives advice on the best areas to walk dogs at different times of the year.
For even more fun for the children, there's the Wigginton Park Tree Trail where you can discover the stories behind a variety of individual trees around the park. Dosthill Park has sculptures of four of the characters from the classic tale the 'Wind in the Willows' to discover. Children will be able to follow the trail and play on the playground all while enjoying the outdoors and the nature that can be found there.
Cycling
If a walk is not for you, there are also various cycle routes around the area to try. Staffordshire County Council has great advice on local cycling routes as well as maps of the area's marked cycle paths, showing the safest ways to navigate the town on a bike.
The council also offers information on road signs that cyclists need to be aware of and tips and tricks to make your bicycle the most comfortable and the safest it can be. This information, and more, can be found at www.staffordshire.gov.uk/Transport/cycling/Documents/Tamworth-Borough-Issue-5.pdf.  There is also a handy tool that allows you to plot a cycling route, giving clear directions and even information about how much carbon dioxide the rider could save by cycling the route instead of driving. This can be found at https://cyclemap.staffordshire.gov.uk/.
For those who want to hire a bike to try out one of these routes, check out Dave Owen Cycles, in Tamworth Castle Grounds, the perfect location for you to start exploring the town on two wheels. The shop is open seven days a week and can be contacted on 07896 504141 or more information can be found on their Facebook page.
The Visit Tamworth website has a wealth of information on exploring the local area, days out and What's On.