Do you dare to call the name 'Beetlejuice'?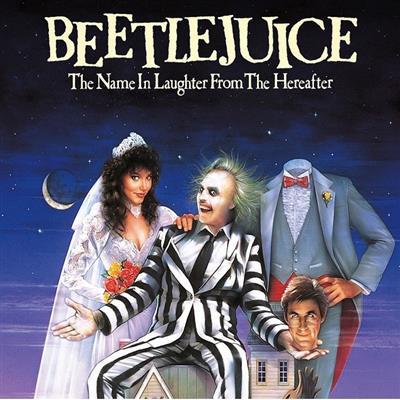 Calling all Tim Burton and dark comedy fans! Are you looking for an outdoor cinema experience that will thrill and entertain any fan of classic, witty horror? Then there is still time to grab your tickets for this year's Outdoor Cinema on Saturday, August 10, for Beetlejuice, but be quick before it sells out!
Tickets for the popular Outdoor Cinema in Tamworth Castle Grounds have sold out for the earlier showing of Bohemian Rhapsody, but the showing of Beetlejuice at 11.55pm still has tickets left, so don't miss the chance to enjoy watching this classic movie on a giant screen under the stars.
The midnight film choice is the 30 year old, 1988 film Beetlejuice, an American comedy-fantasy film directed by Tim Burton. The plot revolves around a recently deceased young couple played by Alec Baldwin and Geena Davis, who become ghosts haunting their former home. An obnoxious, devious demon named Betelgeuse (pronounced and spelt Beetlejuice in the movie) portrayed by Michael Keaton, arrives from the Netherworld to try and scare away the new inhabitants played by Catherine O'Hara, Jeffrey Jones, and Winona Ryder.
Beetlejuice was a critical and commercial success. It won the Academy Award for Best Makeup and three Saturn Awards - Best Horror Film, Best Makeup, and Best Supporting Actress for Sylvia Sidney, her final award before her death in 1999.
Back in 1988 when Beetlejuice was first released, the world barely knew of Tim Burton, aside from his zany movie Pee-Wee's Big Adventure. However, Beetlejuice was the movie that cemented the director's house style; one filled with dark comedy, a love of classic horror conventions, and a dazzling visual approach mixing up witty special effects with enjoyably physical performances. It's an approach that Burton went on to deploy in any other number of hit movies including Batman, Edward Scissorhands and Sleepy Hollow.
The film's huge success has led to video games releases, animated television series and  even a stage musical.
This will be a silent screening, adding to the dark comedy effect, with headphones provided. Why not come in fancy dress as your favourite film character and make this a night to remember?
Cinema goers are invited to take warm blankets and a picnic, although food and drink will be on sale during the event. No glass, gazebos or alcohol are to be taken on site, but a licensed bar will be available throughout.
Gates open 15 minutes before Beetlejuice. Entrance is by ticket only and the movie is for audiences aged 18 and over, due to licensing restrictions.
Tickets are available online at www.tamworthartsandevents.co.uk, in person from Tamworth Information Centre in Marmion House, Lichfield Street, or by calling the Box Office on 01827 709618. A transaction fee of £1 is payable on all online and telephone bookings. No admission on the evening without a pre-purchased ticket.
The Outdoor Cinema is just one element of a packed programme of outdoor events. The full calendar is available via the www.tamworthartsandevents.co.uk website.