Enjoy August Bandstand music as summer programme draws to a close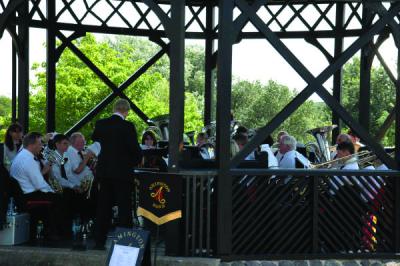 Get into summertime vibes with Motown covers, a classic blues band and a brass band, as a musical summer of Castle Grounds Bandstand entertainment draws to a close.
Audiences can enjoy relaxing in the park to the sounds of The Tones on Saturday, August 3, a MacMillan concert on Saturday, August 10, followed by the last two bands of this year's programme - 58 Blues Band on Saturday, August 17, and Amington Band on Saturday, August 31.
The Tones play upbeat covers from Motown, Funk and Soul, guaranteed to get audiences singing along and toe tapping.
Come and support a special concert in aid of MacMillan, organised by Phil England of Tamworth Jazz, Blues, Country, Folk and Roots band, on Saturday, August 10 from 12pm-3pm. Music will be performed by local musicians Tickety Boo, a four- piece band playing a mix of country, folk, rock and popular music; and The Forties 3, a trio playing jazz tunes of the 1920s -1940s.
58 Blues Band play their versions of classic blues tracks in their own spontaneous way. Inspired by artists from both past and present, they are one of the most exciting and gritty blues bands around.
Amington Band will bring this year's programme of Summer Bandstand Concerts to a close with their variety of popular and traditional brass band music.
Organised by Tamworth Borough Council's Arts & Events team, the annual bandstand concerts tradition has seen the historic stage coming to life throughout the season with music and entertainment for all tastes.
So far, the programme has been popular with both young and old, showcasing crowd-pleasing bands and vocalists. Don't miss out on these last acts for August.
Sponsored by Ankerside Shopping Centre, all the concerts are free of charge, so bring your picnic baskets and blankets down to Tamworth Castle Grounds for an afternoon of music. Performances take place at intervals between 1pm and 4pm (subject to weather conditions).
Cllr John Chesworth, Tamworth Borough Council's Cabinet member for Culture and Operational Services, said: "Four amazing bands will return for another memorable selection of performances.
"It's great to see Bandstand Concerts continuing to go from strength to strength. Everyone is invited to enjoy a lovely afternoon of entertainment in the stunning Castle Grounds. Don't miss the last four bandstand performances for this summer, including a special concert in aid of MacMillan."
The bandstand concerts are part of a great calendar of outdoor events organised by Tamworth Borough Council's Arts & Events team. For the full 2019 line-up please visit: http://www.tamworthartsandevents.co.uk/outdoor-events.