Experience life during WW2 at Tamworth Castle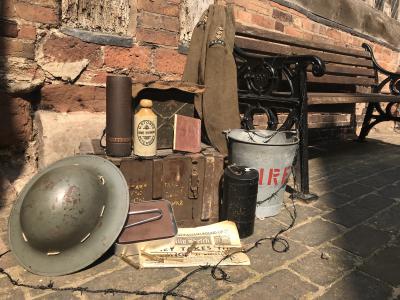 Families are invited to experience life during the war as part of a special event at Tamworth Castle next week to mark this year's 75th anniversary of the D-Day landings.
Visitors will be able to experience life during the war through a variety of different tasks set up around the castle in an event that is set to be informative and entertaining for all. The event will for held for three days from July 30th to August 1st. 
Members of the public will also be invited to share their stories of the war by contributing to a display, bringing together the important role of Tamworth and its citizens during World War Two; when the town took in over 1000 child evacuees and lost hundreds of local soldiers.
Children will be able to try out World War Two fire hoses and stirrup pumps in the castle courtyard, decode secret messages using a Morse key and meet the Billeting Officer.
Visitors will be invited to help build an Anderson shelter to protect against air raids and learn about the preparation that was needed for D-Day. There will also be pieces of authentic kit to try on. 
Every room has activities to try, including spy skills and make-do and mend tasks. Visitors will be guided through the building using a quiz and small prizes will be given out to those who complete it.
Entry to the castle is currently being offered at a reduced price of £6.50 for adults, £5.50 concessions, £4 for children over five and £2 for children aged between two and four. Under-twos get in free of charge. This is while the work to create the new Battle and Tribute Staffordshire Hoard takes place.
Admission times are from 10:30am to 3pm and the building will close at 3:45pm. No pre-booking is necessary, but tickets can now be booked in advance to avoid disappointment via the Tamworth Castle website at www.tamworthcastle.co.uk, or by calling Tamworth Information Centre in Marmion House, Lichfield Street, on 01827 709618.