Get weaving ready to welcome new 'faces' to Dosthill Park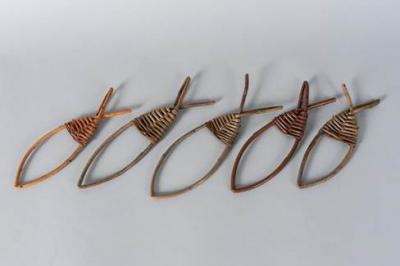 Families are invited to learn new skills and join a FREE Willow Weaving Workshop at the launch of the new and creative 'Wind in the Willows' sculpture trail in Dosthill Park on Saturday, May 18.
The willow weaving workshop will take place in the park between 11am and 2pm, as part of a series of events to celebrate this year's Tamworth in Bloom campaign. Everyone is invited to come along and make either a willow fish or star and see the Wind in the Willows characters brought to life. Designed by sculptor and artist Luke Perry, creator of the impressive Tamworth statue of the Anglo-Saxon warrior - Aethelflaed, the four sculptures have been given new homes throughout the park.
Blooming Tamworth is about the events and activities that make the town a great place to live, including live performances in our parks and open spaces. Characters from the classic story 'Wind in the Willows,' will be brought to life in time for the outdoor theatre performance of this heart-warming tale, on June 16. Tickets on now on sale via the booking line: 01827 709618 or visit the website: www.tamworthartsandevents.co.uk/whats-on . 
During the Willow Weaving Workshop Staffordshire Wildlife Trust will be on hand to share information about the park and how you can get involved with the nature group and Wild about Tamworth.
Dosthill Women's Institute are also pleased to invite people to Dosthill Open Gardens Weekend on Saturday, May 18 and Sunday, May 19, as part of celebrating 75 years of the Dosthill WI.
Programmes are available from Dosthill Boys' Club and St Paul's Church, priced at £4. There will be opportunities to visit open gardens, flowers and memorabilia in St Paul's Church, Dosthill Quarry's historical centre, The Broom and see the ongoing enhancement work carried out by the local community; plus there will be refreshments and activities at Dosthill Boys' Club.
Tamworth Borough Council is celebrating this year's Tamworth in Bloom campaign with the theme of 'Blooming Tamworth' – More than just flowers; with the focus on celebrating everything that is great about Tamworth including its community, events and history.
Street Scene teams from Tamworth Borough Council will be out in force in the coming months to prepare the area for its summer floral display. At the same time, communities, groups, such as the volunteers who take care of our local nature reserves, businesses and individuals are getting involved with more exciting new projects.
As Tamworth is looking to strike gold for the tenth year in a row in the Heart of England in Bloom competition this year, the pressure is on to maintain the high standard of previous years.
Businesses are invited to join in by sponsoring a display; banners, planters, troughs and flowerbeds are all available for branding with the names of supporting companies.
To get involved in this year's Tamworth In Bloom campaign, or for more information on sponsorship packages, contact Environmental Management on 01827 709445 or email environmentalmanagement@tamworth.gov.uk.