Help sow the seeds for success at the 'Big Sow' this Saturday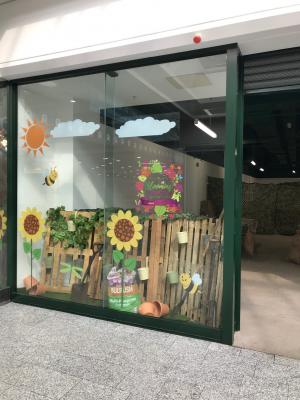 This year Tamworth is going all out to strike gold in the Heart of England in Bloom competition for the 10th time – and you're invited to help sow the seeds for success.
As part of the 2019 Tamworth in Bloom campaign 'Blooming Tamworth – More than just flowers', we're inviting you to be part of the Bloom team by sowing seeds in the Castle Grounds this Saturday (April 20).
'The Big Sow' takes place during the St George's Day extravaganza and will hopefully attract many festival-goers to take part in the Tamworth in Bloom activity.
Seeds can be collected throughout the morning on Saturday from 10am from a unit in Ankerside Shopping Centre, opposite Boots, which has been given a special potting shed- themed makeover for the Blooming Tamworth campaign.
A variety of arts and crafts activities will also be taking place in the potting shed throughout the day, between 10am and 3pm, where children will be able to make flower crowns and windmills to decorate their open spaces.
At 2pm, green-fingered enthusiasts are invited to join Street Scene teams in planting their seeds in an area of the river bank, which they can then watch flourish and grow in the coming months, ahead of Tamworth in Bloom judging on July 16.
Participants are asked to meet members of Tamworth Borough Council's Street Scene team at the outdoor gym in the Castle Grounds and they will then make their way to the areas to be planted.
As Tamworth is going for gold for a milestone 10th time, this year's theme involves a celebration of the town's community and heritage, which will be reflected in the Tamworth in Bloom flowers and events.
Street Scene teams from Tamworth Borough Council will be out in force in the coming months to prepare the area for its summer floral display. At the same time, communities, groups - such as the volunteers who take care of our local nature reserves - businesses and individuals are getting involved with some exciting new projects this year that will involve more than just planting or hanging baskets.
Ankerside Shopping Centre is among those supporting the campaign again with Blooming Tamworth celebrations. As well as banners throughout the centre, the Ankerside team will be running additional activities from the potting shed. On Tuesday, April 23, children are invited to pop along at any time between 11am and 4pm and learn how to plant sunflower seeds and other crafts.
Activities from the potting shed are being run in conjunction with Tamworth Community Together CIC.
Mark Burbridge, centre manager at Ankerside Shopping Centre, said: "We are very excited for Ankerside to be involved in all the fantastic activities planned as part of this year's Tamworth in Bloom campaign.
"One of our units has had a wonderful makeover and has been transformed into a 'potting shed' where we have a variety of garden-related arts and crafts taking place. These offer a great opportunity for visitors to show off their creative skills and pick up seeds to contribute towards the wonderful, floral displays that will celebrate the many fantastic things about Tamworth."
Sarah McGrandle, Tamworth Borough Council Assistant Director, Ops & Leisure, added: "This year's Tamworth in Bloom campaign is probably our biggest yet and it has a real focus on the community, events, volunteers and history that makes Tamworth such a great place to live. We're celebrating that by inviting people to contribute towards the big team effort involved in making the town look 'blooming' wonderful by taking part in the Big Sow on Saturday. Along with the free St George's Day activities in the Castle Grounds, it'll be a great day out for the family."