Help us 'poppyfy' Tamworth Castle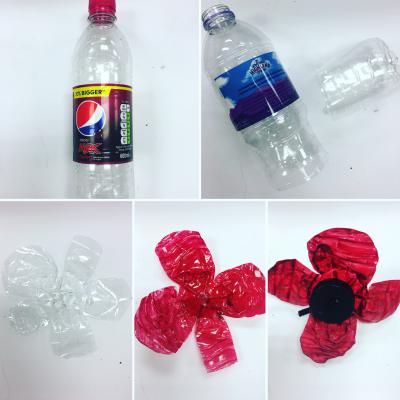 A major Remembrance Day project is underway to create a bright red cascade of poppies from the top of Tamworth Castle, but your help is needed to make it the most stunning spectacle possible - and there's even a cone of chips in it for you!
While industrious members of Tamworth Ladymeadow WI, Girlguides, Scouts and community groups have already created more than 2,000 poppies out of used plastic bottles, the 'poppyfying' challenge has now been thrown out across the town.
The poppies will be attached to a net and dropped from the parapet wall of the Castle and down the motte in a poignant and colourful tribute to fallen soldiers as part of a special event marking 100 years since the end of World War One.
People of all ages are being encouraged to get involved in this huge community project to make it the biggest and most impressive display possible to greet the Remembrance Day parade when it makes its way into the Castle Grounds on Sunday, November 11.
For added incentive, popular fish and chips bar, Oceans of Tamworth, has even offered to give away a cone of chips to every person who takes their completed poppies to the Belgrave restaurant.
Oceans of Tamworth, based in the Exley Centre, will also be acting as a collection point where people can drop their completed poppies.
Owner of the business, Sean Bloomfield, said: "We are very much a community-driven business and when I saw this project, I really wanted to get involved and lend our support. I saw the poppy display at the Tower of London and it was amazing, so I think this is a great idea."
Making a poppy is very simple and can be done at home. It is hoped that schools, community groups, businesses and residents of sheltered housing schemes will also get involved. Obviously children should be supervised by adults if taking part in the task.
To make a poppy:
Get a clear, standard 500ml plastic water bottle

Cut the bottom section off the bottle, around 10-15cm from the base

Cut poppy leave shapes into the sides of your bottom section of bottle and put two holes in the centre (the base of the bottle)

Paint your poppy red

Paint the lid of your bottle black, put two holes in it and tie it to the centre of your poppy shape with a black pipe cleaner.
As well as Oceans of Tamworth, completed poppies can also be dropped in a collection bin which is outside the Ladymeadow WI group's temporary base of operations in a unit on the ramp at Ankerside Shopping Centre.
The WI members are sharing the unit with the Royal British Legion to work on the project – which is a joint venture between Tamworth Borough Council's Arts & Events team, Tamworth Castle and the WI – and to raise awareness of the legion's charity work, in the run up to the Remembrance Day event.
Cllr John Chesworth, Cabinet member for Culture and Operational Services, said: "We're particularly good at large-scale community projects in Tamworth with lots of community-spirited people getting involved and we hope this latest one will be no different.
"It's certainly an ambitious challenge that has been set, with a target of at least 4,000 poppies required, but I'm sure Tamworth people can rise to the occasion. It would be a wonderful tribute to have a large and impressive sea of poppies cascading down the Castle that not only looks stunning, but has been put together by Tamworth people of all ages in memory of our fallen soldiers."
The Remembrance Day event, We Will Remember, will see the traditional parade finishing in the Castle Grounds in front of the poppy cascade, to the sounds of Land of Hope and Glory being sung by a number of Tamworth choirs in what is set to be a truly poignant spectacle.
The 2018 parade is expected to head off from Ladybridge at around 10.30am, making its way to a service at St Editha's Church and then continuing to the Castle Grounds for around 12.20pm, but all timings will be confirmed nearer the time.
An instructional video on how to make a plastic poppy can be viewed online at www.tamworthartsandevents.co.uk/we-will-remember-2018 and via the Tamworth Arts & Events Facebook page. We would also love to see pictures of you making poppies or with your completed poppies, which you can share with us via Facebook using #poppyfying, or by emailing TARartsdevelopment@tamworth.gov.uk.
For more information on getting involved, or to arrange a poppyfying demonstration, contact Tamworth Borough Council's Arts & Events team on the email address above or by calling 01827 709314.