Kids enjoy lantern workshops ready for Christmas parade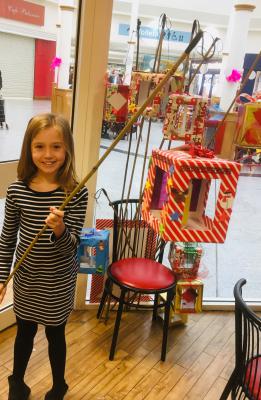 Youngsters enjoyed a free drop-in workshops during half-term, where they made special lanterns to carry in this year's Christmas Lantern Parade in Tamworth.
The parade of children walking through the Castle Grounds carrying lanterns is a key part of the town's annual Christmas Lights Festival and will make its way to St Editha's Square in time for the switching on of the lights on Sunday, November 24.
All children across the town have been invited to take part in the parade and help launch the festive season in style.
Lantern-making workshops took place in Ankerside Shopping Centre on Saturday, October 26, with popular Tamworth artist, Maggie Carney, who was on hand to help children build and decorate a card lantern to carry in the parade. Children were busy getting creative and adding Christmas sparkles, glitter and stickers to customise their lantern.
The next workshop is set to take place on Saturday, November 16 in Ankerside Shopping Centre from 10am-12pm and 1pm-3pm.
Youngsters are then invited to collect their lanterns at the start of the parade on November 24, at 3pm from Ankerside Unit 49. Timings and parade route will be confirmed with those taking part nearer the time.
Maggie has been the leading artist with many Tamworth Borough Council art projects, including the hugely successful Mercian Mosaic project and has won the Tamworth Business and Community Awards 'Citizen of the Year' accolade last year with her group of volunteers 'Team Aethelflaed', receiving recognition in the Community Group of the Year category.
Maggie said: "Children made a great start at the Art Attack event and the half term workshops, creating the new designs for the parade that will represent the 12-days of Christmas.
"This year, 12 community groups are also getting involved in making a new and bigger lantern design with each one themed with one of the 12-days of Christmas. Families and children are invited to join the project at the final workshop on November 16.  
"Thank you to everyone that has helped so far; I look forward to seeing all the children return on Sunday, November 24, this will make this the biggest and best parade to date!"
Mark Burbridge, centre manager at Ankerside, said: "Our first lantern workshop last weekend was huge amounts of fun and we thoroughly enjoyed meeting the people of Tamworth and hearing about their upcoming plans for the festive season.
"For those who couldn't make it, there's another opportunity to take part in the creative sessions at Ankerside on November 16. Be sure to join us, as it will definitely be a highlight for the whole family."
The annual Christmas Lights Festival, sponsored by Ankerside Shopping Centre, starts at 1pm and promises another jam-packed afternoon of festive fun for the whole family. Activities include fairground rides, live music and dance performances, Christmas market, walk about characters, a nativity under the Town Hall and face painting.
Entertainment will centre around the Touch FM stage in St Editha's Square with a variety of live performances from 3pm.
Also returning is the annual Christmas Tree Festival in St Editha's Church, which invites schools, businesses, local groups and individuals to decorate a tree to be displayed in the church. More information on that is available here: www.tamworth.gov.uk/Christmas-tree-festival
The annual free festival is one of the highlights of Tamworth's impressive calendar of outdoor events and is organised by Tamworth Borough Council's Arts & Events team in partnership with Tamworth Christmas Lights Committee. It usually draws thousands of visitors from across the area. 
Cllr John Chesworth, Tamworth Borough Council's Cabinet member for Culture and Operational Services, said: "What a fantastic response to the lantern drop-in workshops. We all look forward to the annual Christmas Lights Festival as it marks the start of the main countdown to Christmas.
"This is an incredibly popular event in our calendar of free entertainment for residents and visitors and it's a lovely festive day out. We are again inviting youngsters to really be a part of that with their families by joining the Christmas Lantern parade which also include this year 12 community groups that will design 12 large lanterns that will be displayed at the Bandstand.
"Thank you to everyone who has taken part in the workshops so far, all hosted by Ankerside Shopping Centre, I look forward to seeing them glowing in the magical parade."
More information is available from Tamworth Borough Council's Arts & Events team by emailing TARartsdevelopment@tamworth.gov.uk, or calling 01827 709314.