New festive Angel Wings project coming to Tamworth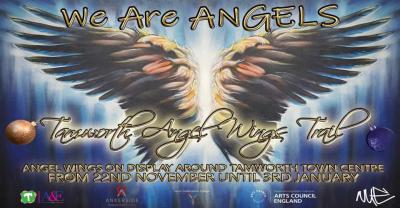 October 16 2020
A festive project titled 'We are Angels', is set to 'fly' into Tamworth to bring some Christmas cheer to all.
Tamworth Borough Council's Arts and Events are supporting a new project that aims to produce artwork of various angels' wings in an art trail around the town, as a build up to Christmas.
The Arts and Events Team will be working in partnership with New Urban Era, professional artists and students from South Staffordshire College. The project is also calling on the local public to help with designs of the artwork to create a boost to the town during a very different Christmas time this year.
'We are Angels' is an extension to New Urban Eras Arts Council England funding and the council team are delighted to be supporting local artists while following current government Covid-19 guidelines. Original artworks will be displayed along with printed artworks submitted by the general public that will make up the window displays.
The project will also work with local businesses and locations across the town including Ankerside, Marmion House, Tamworth Castle and Bandstand, displayed in windows from November 22, 2020 til' January 3, 2021.
The idea is for the public to stand in the middle of each wing design, take a selfie and share on social media. The hope is to fill Facebook with Christmas cheer and angels by tagging in @TamworthArtsandEvents and @NewurbanEra. 
People of all ages are invited to join in by emailing an 'Angel Wings' designs to: weareangelstamworth@gmail.com. The team will review all the entries and choose the most fitting designs to go on display alongside original artwork created by established UK artists and Students from South Staffordshire College. Entries must be submitted by November 8.
Nue Founder Vic Brown, said: "Despite Covid-19 we have had our busiest year to-date at Nue. This is a good sign of the need and want for the arts in Tamworth.
"We are looking forward to seeing this successful art year out on a high and working together with Tamworth Borough Council, South Staffordshire College and residents to create some magic for all to enjoy over the Christmas period."
Vic added: "Join us for an online workshop on October 28, from 6pm, via the New Urban Era Facebook page and website: www.newurbanera.org.  
"Artist Korp will give teach you all the tricks you need to create your own professional looking Angel Wings."