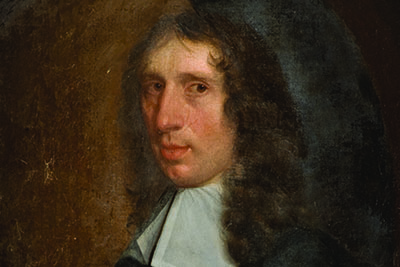 John Rawlett (1642-1686)
The Rev. John Rawlett, B.D. was born in Tamworth.  He held church appointments across the country and was highly regarded as a preacher and writer of devotional books.  His name lives on in the trust he set up to administer his will for the benefit of the people of the town and, more recently, in the naming of The Rawlett School, Tamworth.
Thomas Guy - Tamworth's Famous Benefactor (1644–1724)
Tamworth's famous 'incomparable benefactor', Thomas Guy is responsible for two of the town's most historic buildings; the Almshouses and the Town Hall. In 1677, Guy donated new facilities to Tamworth's free Grammar School, where he had been educated, followed by purchase of some ground in Gungate, where he built six Alms Houses for poor women. Guy also contributed a large sum for the building known as the Spinning School. Thomas Guy continued his generosity to Tamworth when he funded the building of the Town Hall in 1701.
He served the town as MP until1707, but when the people of Tamworth failed to re-elect him, he became angry at the town's ingratitude for his generosity. He threatened to demolish the Town Hall and excluded people of the borough from the benefits of his Almshouses, restricting them to people living only in Wilnecote, Glascote, Bolehall, Amington, Wigginton and Hopwas. This restriction still applies in relation to the boundaries of the borough today.
Rejecting Tamworth, he turned his attention to London where he personally financed the building of Guy's Hospital, Southwark. He died before the project was complete. Download the Thomas Guy leaflet for more information.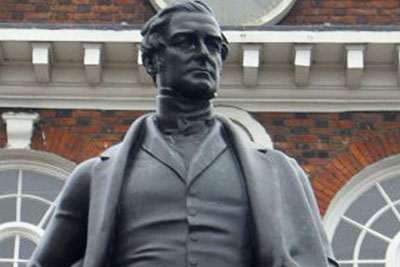 Sir Robert Peel - Second Baronet & Statesman (1788 – 1850)
Sir Robert Peel is one of the most famous and memorable of Tamworth's ancestors. He served as Prime Minister twice and is regarded as the father of modern British policing, as well as being a founder member of the modern Conservative Party. He is played a central role in free trade and set up the modern banking system.
He was the son of Sir Robert Peel, first baronet (1750-1830) who established a new cotton factory in Tamworth, built the original Drayton Manor house and was one of the country's leading industrialists, employing over 15,000 workers. Young Peel entered the Cabinet for the first time as Home Secretary (1822–1827), where he reformed and liberalised the criminal law and created the modern police force, leading to a new type of officer known in tribute to him as "bobbies" and "peelers". He served as MP for Tamworth from 1830 until his death in 1850. His famous 1834 "Tamworth Manifesto" was the first general election manifesto of any modern political party.
Sir Robert Peel is commemorated with a bronze statue in the centre of Tamworth in front of the Town Hall, dating from 1852. For more information on The Peel Family, follow The Peel Society: www.thepeelsociety.org.uk
General Bailey Willington (1755-???)
On Colehill, the building we know as Dewes Sketchley Solicitors was in fact the home of General Bailey Willington. Born in 1755, he was an artillery commander at the siege of Gibralter in 1782.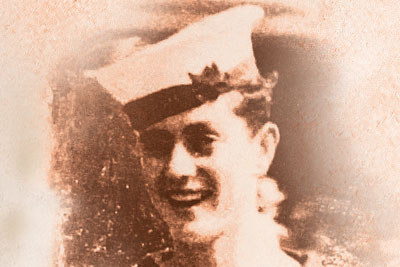 Colin Grazier - Tamworth's War Hero (1920-1942)
Able Seaman Colin Grazier is one of three British servicemen whose brave actions are widely recognised to have shortened the Second World War by as much as two years. Until recently this bravery remained virtually unknown and uncelebrated.
Colin served on board HMS Petard when, in October 1942, he and fellow seaman Lt Anthony Fasson lost their lives retrieving vital German codebooks from a sinking U-boat. The third sailor, Tommy Brown, survived the war, only to die in a house fire while still a teenager.
The precious documents they seized enabled Bletchley Park's code breakers to crack the Enigma codes and so win the Battle of the Atlantic. Now recognised as a pivotal moment in world history, the mission was cloaked in secrecy for over 30 years and not even their families could be told they had paved the way for peace.
Colin Grazier was born in Tamworth and married only days before he left to go to sea on the mission which would end up being his last. The Colin Grazier Memorial was erected in St Editha's square in 2002. Learn more about Colin Grazier on the wikipedia page.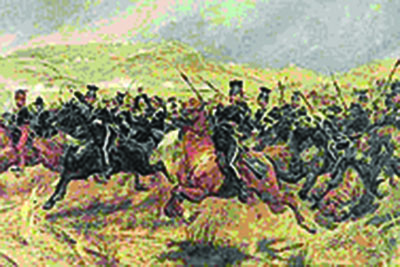 Samuel Parkes (1815-1864) & John Edden (1833-1898)
In the Crimea, on October 25, 1854 the most infamous and suicidal military action ever took place. Known as 'The Charge of The Light Brigade', English troops were ordered to charge down a valley, flanked with Russian cannons with an order to advance to the front to prevent the enemy carrying away the guns. This valley was made infamous as 'The Valley of Death' in Alfred Lord Tennyson's famous poem. Tamworth has a great and significant part in this celebrated event, for two of the heroes of 'The Charge' were Tamworth men. John Edden and Samuel Parkes, both of the 4th Light Dragoons, charged at full pelt down the Valley of Death but both had their horses shot from under them. Many of their comrades didn't survive the relentless shelling and those who reached the guns were ill equipped and had to retreat. Hugh Crawford, the trumpeter of his regiment, became trapped beneath his horse when it was shot. Parkes ran to his aid, fought off Russians and Cossacks, and was then joined by Edden. As they retreated, they came upon Major Halket, who was lying on the ground, mortally wounded. Edden and Crawford lifted him onto Parkes's back whilst he fought off the Russians and Cossacks, wielding his sword like a madman. The sight of 6ft 2ins Parkes fighting for his life with an injured man on his back was a sight to behold. Unfortunately Parkes was taken prisoner but his actions allowed Edden and others to escape the carnage and reach the safety of the British lines. After a year in captivity, Parkes was repatriated and inexplicably Court Martialled for desertion. When the full story emerged, however, he was cleared of all charges and awarded the Victoria Cross. Parkes was only the second man in the British Army to receive this medal for gallantry under fire and was presented with it by Queen Victoria herself on June 26, 1857. John Edden escaped on foot and returned to Tamworth where he lived out his long life as a venerated hero. Samuel Parkes, after leaving the army, lived out his life in relative poverty in London where he died in 1864. The Victoria Cross, Britain's highest award for bravery, was born out of the Crimean War and the medals themselves are still made from the bronze of cannons which the Light Brigade were sent to retrieve.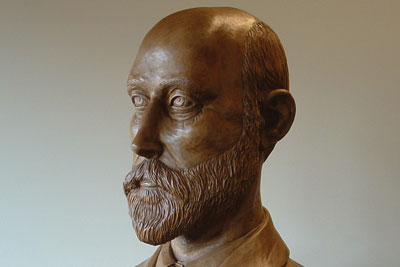 William MacGregor - Famous Egyptologist (1848-1937)
One of Tamworth's unsung heroes is William MacGregor, who served to improve the lives of Tamworth people for more than 60 years. He became a vicar who devoted his life to the people of Tamworth, spending the first 10 years of his ministry visiting the poor. He campaigned tirelessly for every home to have clean water and sanitation despite the strong opposition from the town's wealthy inhabitants.
He is also remembered as founder of the co-operative society, chairman of the Tamworth Herald, for starting a free library and coffee house, building the first hospital in Tamworth and building two churches at Glascote and Hopwas. He was most famous for his collection of Egyptology, in fact two Egyptian mummies are buried in Tamworth soil. He was also a noted publicist on Greek pottery. His civic life and dedicated service to the people of Tamworth demonstrated he was a man in advance of his time.
Download the William MacGregor leaflet for more information.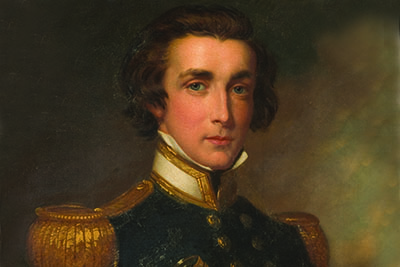 William Peel (1824-1858)
Captain Sir William Peel VC KCB was the third son of Sir Robert Peel and one of the first English recipients of the Victoria Cross in 1857.
In 1849 Peel became the youngest captain in the Royal Navy, serving with the Naval Brigade during the Crimean War. On 18 October 1854 at the siege of Sevastopol, he picked up a live shell with the fuse still burning from amongst several powder cases and threw it over the parapet.  The shell burst as it left his hands, for this he was awarded the Victoria Cross, which is now displayed at the National Maritime Museum in Greenwich.
He also brought back the Black Anchor and cannon balls from a Russian War ship as trophies. Originally located at his home in Drayton Manor, the Black Anchor can now be seen in the Castle Grounds.
Dr. John Weston Smith (1922-2018)
The Laurels GP Practice was once the home and practice of Dr John Weston Smith who registered with the NHS as a GP on 5 July, 1948. In the spring of 1949, Dr Weston Smith obtained the position of junior partner to Dr Charles H Goodliffe, who practiced from his home, Laurel House in Albert Road. In 1965 Dr Weston Smith and Dr Goodliffe took the bold decision to employ a qualified nurse in the practice and in early 1967, Sister Mary Mottram. Her appointment proved a huge success  resulting in the 3 of them writing a qualitative statistical analysis of their work which was published in the British Medical Journal in December 1967, (Extended Use of Nursing Services in General Practice). This caught the attention of the national press and on 15 December that year it was the subject of a discussion on 24 Hours, a precursor of Newsnight on BBC 1, presented by Cliff Michelmore on which John and Mary appeared. Eventually, this model was taken up by GP practices up and down the country.
John and Mary worked together for over 17 years developing their ideas until John Weston Smith retired from the Laurel House Surgery in 1984 aged 62 and at the same time he moved out of the house, which had been his family home since 1951. It is likely that he was the last medical practitioner in Tamworth to live 'over the shop'. Mary Mottram retired from the practice in 1997. It seems Tamworth was ahead of its time – thanks to Dr John Weston Smith and Sister Mary Mottram
Dr Weston Smith was also a GP anaesthetist, working at a local psychiatric hospital where staff administered electroconvulsive therapy (ECT). Over a 2 year period, a faulty machine and poor staff training resulted in no significant change in the responses of patients receiving treatment. This unscientific double-blind experiment was the subject of an article in World Medicine in 1974, written by Dr Weston Smith under a pseudonym. Subsequent research stimulated in part by this article, which cast doubt on the effectiveness of ECT, established its proper place in the treatment of mental illness. The article is still is quoted in medical publications.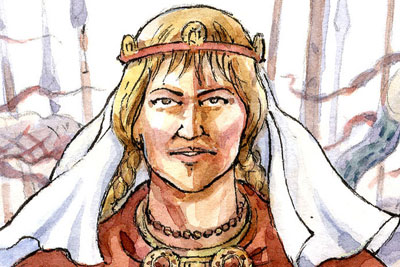 Aethelflaed - Lady of the Mercian's ( c.870 -918)
Ancient Tamworth's most powerful Mercian woman, Aethelflaed, is known to have re-fortified Tamworth in 913. The daughter of King Alfred the Great, she jointly ruled Mercia with her husband, Aethelred, leading the battle against the Danes in the Midlands and the North and working to unite England.
After her husband's death in 911, she became the sole ruler of Mercia and became known as 'The Lady of the Mercians'. Her death in 918 in Tamworth resulted in Mercia being merged into Wessex. An iconic Aethelflaed Monument stands at the foot of Tamworth Castle just through the Gatehouse and a grand new statue in honour of the warrior will soon be erected outside Tamworth Railway Station. Read more about Aethelflaed here.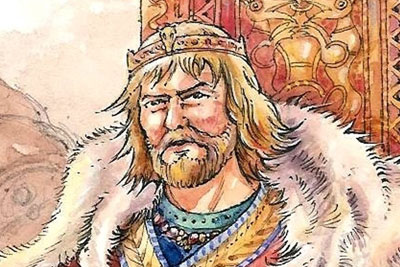 King Offa - King of Mercia (   -796)
Offa was King of Mercia, a kingdom of Anglo-Saxon England, from 757 until his death in July 796.
In Tamworth, the king built a ditch that encircled the town on three sides. Looking on a more modern map this can be seen starting on the river bank beside the old Wyburne Lane, crossing Lichfield Street, going around the Castle orchard and across the junction of Aldergate and Gungate to return to the river bank at Bolebridge. It can be seen that the castle walls and town gates of medieval times followed its course, and that the modern town falls within these early defences.
---
Sporting Heroes
Tamworth Football Club legend Charlie Coggins played his debut game for the Lambs at the age of 14.
Famous cross-country jockey, Arthur Birch who won the Grand National in 1904, riding Moifaa was from Bonehill.
Former Swindon Queen's Park Rangers, Everton and West Bromwich Albion striker, Peter Eastoe was born in Dordon.
Albert Brown was born in Kettlebrook, Tamworth 1879. The lightning fast footballer known as the 'Tamworth Sprinter' played for both Aston Villa and Southampton. He played at the FA Cup final of 1902 against Sheffield United, and in a game against Northampton in December 1901 he scored straight from the kick-off and went on to complete a hat-trick within the first 5 minutes. The Saints eventually won 11-0 with Brown scoring 7 in total!
Tamworth born footballer Albert Thomas Mullard , who played for Crewe, Stoke and Port vale served as a marine in World War II before he became a professional sportsman. After being captured by the Germans in 1941, he was held in a prison camp where he played for a Marines XI after his mother sent him a pair of football boots in a Red Cross parcel.
Athlete Dave Black, who competed in the Montreal and Moscow Olympics was born in Tamworth in 1952 and competed for Tamworth Athletics Club.
Anthony Philip 'Tony' Coton (born 19th May 1951) played as a goalkeeper from 1978 to 1999. Born in Tamworth, he made 500 appearances in the Football League and Premier League playing as a goalkeeper for Birmingham City, Watford, Manchester City and Sunderland. He came out of retirement briefly in 2004 for Hereford United following a goalkeeping crisis.
Gary Mason is a British motorcycle road racer, born on 4th May 1979 in Tamworth. He is a former British Superbike Championship Privateers cup champion.
The Arts
Horror novelist Guy N Smith, best known for his 1976 novel, 'Night of the Crabs' was born in Hopwas. 
Actor Bryan Pringle who died in 2002 and whose TV credits included Auf Widersehen Pet, Last of The Summer Wine and The Dustbinmen was born in Glascote, Tamworth.
Actress Hilary Tindall who appeared in the TV shows such as Z Cars, Max Headroom and Randall and Hopkirk (deceased) was raised in Tamworth as her parents ran The Peel Hotel.
John Argyle, the prolific movie writer, producer and whose films included the likes of James Mason, Bella Lugosi and Christopher Lee, was born in Tamworth in 1911.
Beatrice Gladys 'Bea' Lillie (May 29, 1894 – January 20 1989) was an actress and comedic performer. Following her 1920 marriage to Sir Robert Peel, 5th Baronet, she was known in private life as Lady Peel. During World War II, Lille was an entertainer of the troops. Before she went on stage one day, she learned that her son was killed in action. She refused to postpone her performance saying, 'I will cry tomorrow'.
Thomas Appleby Matthews (either 1881 or 1884 - 22 June 1948) was an English conductor and organist. Matthews was born in Tamworth and received his musical education at the Birmingham and Midland Institute School of Music, serving as organist of St. Philip's Cathedral, Birmingham. In 1920, he became the first conductor of the City of Birmingham Orchestra, today's City of Birmingham Symphony Orchestra. 
Science
William Whiston (9 December 1667 – 22 August 1752) was an English theologian, historian and mathematician, a leading figure on the popularisation of the ideas of Issac Newton. Whiston was born at Norton-juxta-Twycross, and was educated privately for his health, and so that he could act as amanuensis to his blind father. He studied at Queen Elizabeth Grammar School, Tamworth. Whiston succeeded his mentor Newton as Lucasion Professor of Mathematics at Cambridge University.
Sir Ernest William Titterton  (4 March 1916 – 8 February 1990) who was born in Tamworth and was one of the world's foremost nuclear scientist. In July 1945 he was a senior member of the timing group that fired the first nuclear weapon at Alamogordo, New Mexico.
Captain Elizur Holyoke (c.1618-1676) of Springfield, Massachusetts was the namesake of the mountain, Mount Holyoke, and indirectly, of the city of Holyoke, Massachusetts. Elizur Holyoke arrived in the Massachusetts Bay Colony from Tamworth, Staffordshire, England in 1637 or 1638 at the age of 20. 
Anne Rowney the Tamworth woman who the first matron of Guy's Hospital London was born in in Market Street on 30 September 1678. She is believed to be buried under the hospital's extension. Learn more about Anne Rowney here.
Hints Hall which was demolished in 1955 was the home of Sir John Floyer (1639-1734), the first physician to recognise the importance of measuring the human pulse in diagnosing illness.
The famous Physician brothers John Clarke M.D. (1760 – 1815) and Charles Mansfield Clarke M.D. (1782 – 1857) built and lived at Wigginton Lodge. John was one of only ten licentiates in midwifery created by the College of Physicians in the late eighteenth century. Learn more about the Clarke brothers here.