Results are in for this summer's Outdoor Cinema film choices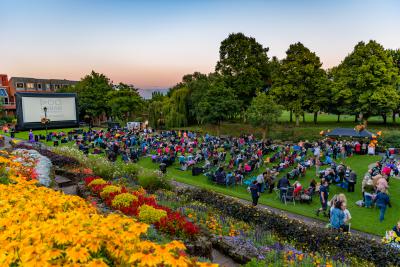 Hundreds of movie lovers have voted to decide the two films that are shown at this year's popular Outdoor Cinema in Tamworth Castle Grounds.
Votes were cast online and via social media after members of the public were invited to choose from a shortlist the films they would most like to see on a big screen in the great outdoors this summer.
The winning movies have now been revealed as The Greatest Showman, which came out on top for the earlier 9pm slot, to be followed by a showing of Silence of the Lambs at midnight.
The Greatest Showman hit UK cinema screens for the first time in 2018, following a multi-million box office success in America in 2017. Recent accolades include the 2018 Golden Globe Award for best original song – 'This is Me' and the 2019 Grammy Award for best original motion picture soundtrack.
The Greatest Showman is a bold and original musical that celebrates the birth of show business and circus troupe performance in the mid-19th century. The film offers a sense of wonder where dreams come to life. Inspired by the ambition and imagination of P.T. Barnum, The Greatest Showman tells the story of a visionary who rose from nothing to create a mesmerising spectacle that became a worldwide sensation.
Get ready to sing-a-long to the fabulous soundtrack of The Greatest Showman and enjoy this heart-warming film based on a true story of P.T. Barnum, the founder of the Barnum and Bailey Circus.
The midnight film choice is the 1991 psychological horror, The Silence of the Lambs. This iconic classic stars Jodie Foster as Clarice Starling, a young FBI trainee and Anthony Hopkins as Dr Hannibal Lecter, a brilliant psychiatrist and cannibalistic serial killer. To add to the 'thrill' this film showing will be a silent screening and headphones will be provided.
The film won the Big Five Academy Awards – Best Picture, Best Director, Best Actor, Best Actress and Best Adapted Screenplay, making it only the third film in history to accomplish that feat. 
The story follows a psychopath nicknamed Buffalo Bill, who is murdering women across America. FBI agent Clarice Starling, approaches a demented prisoner who may provide clues to the killer's actions. That prisoner is psychiatrist Dr Hannibal Lecter, a brilliant, diabolical cannibal who agrees to help Starling only if she'll feed his morbid curiosity with details of her own complicated life. As their relationship develops, Starling is forced to confront not only her own hidden demons, but also an evil so powerful that she may not have the courage or strength to stop it!
Tickets for this year's Outdoor Cinema on Saturday, August 8, go on sale on Friday, February 14, an ideal Valentine's gift!
Tickets are £10 per screening.  Both film showings are for adults only.
Anyone wishing to attend is advised to get in early as tickets are expected to sell out quickly.
Cllr John Chesworth, Cabinet member for Culture and Operational Services, said:  "The Outdoor Cinema has been a hugely popular event in the eight years since it was added to the annual outdoor events programme. The past four years we decided to give audiences the chance to choose the films they wanted to watch under the stars and the event subsequently ended up as a sell-out.
"Due to the popular success of this event, I would urge anyone who would like to attend to book their tickets straight away to avoid disappointment."
Cinema goers are invited to take warm blankets and a picnic, although food and drink will be on sale during both events. No glass, gazebos or alcohol are to be taken on site, but a licensed bar will be available throughout.   
Gates open 45 minutes prior to The Greatest Showman and 15 minutes before Silence of the Lambs. Entrance is by ticket only and both movies are for audiences aged 18 and over, due to licensing restrictions.
Tickets are available online at www.tamworthartsandevents.co.uk, in person from Tamworth Information Centre in the Tamworth Assembly Rooms, or by calling the Box Office on 01827 709618. A transaction fee of £1 is payable on all online and telephone bookings.
The Outdoor Cinema is just one element of a packed programme of outdoor events that has been confirmed for 2020. The full line up will be revealed soon.