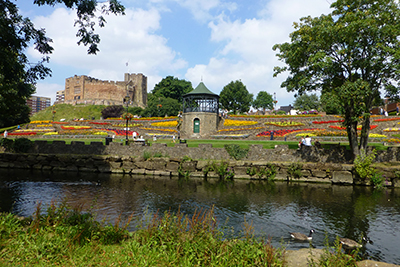 Summer is here! And now restrictions have eased we are keeping everything crossed for a slow and safe recovery back to 'normality'. However, it is crucial that we all continue to work together to follow the guidelines and keep each other safe.
Our Events Page is a great place to browse all the latest things to do locally. As always, these are subject to Covid guidelines.
Now that we are allowed to enjoy inside company, pub gardens, restaurants and cafes that we have been waiting to enjoy properly, please take a look at our website for local eateries. It is so important to support local where we can. www.visitamworth.co.uk/eat-and-drink
Our fabulous attractions we have all missed dearly are also now slowly but safely reopening once more. It would be fabulous to support them and start making memories once again. 
New for 2021 is the Battle & Tribute exhibition at Tamworth Castle. It's an interactive exploration of our Mercian and Anglo-Saxon history complete with a mead hall, interactive games and items from the Staffordshire Hoard. Also new is there is an Augmented Reality Trail - Tamworth AR Explorer - which really brings history to life! Find out more on their website: www.tamworthcastle.co.uk
Live shows are back at Tamworth Assembly Rooms - check their website to see what shows are on offer this season, there's lots to choose from - comedy, tributes, show tunes and more! www.tamworthassemblyrooms.co.uk
Despite the great news on being able to head indoors, we will continue to remind you to get outside and explore, especially to see nature in all its springtime glory. Not only will this help your physical health, nature has a proven positive impact on your mental wellbeing too. Luckily for us, Tamworth and the surrounding areas are packed with plenty of pretty nature spots, parks, walks and cycle paths. Check out Tamworth Castle Grounds or the nature reserves page of our website to find where you can explore. We just kindly ask that you take all litter home with you to keep our nature reserves safe for the wildlife who live there, and to keep it looking nice for other visitors. Thank you.
Take a look at the Staffordshire Council's Cycle Map for lots of easy access routes. 
Our amazing local New Urban Era group also have plenty of activities for you to be taking advantage of, so please keep an eye on their website and social media pages to get involved.
We hope this has helped to provide you with some inspiration for things to do whilst we are still navigating these unprecedented times. Please remember to stay safe, and to take lots of photos; we really are excited to be on the pathway back to 'normality'. Enjoy! 
For the latest updates on events and businesses re-opening please follow our social media pages on Facebook: www.facebook.com/VisitTamworth Twitter https://twitter.com/visittamworth or Instagram www.instagram.com/visittamworthuk