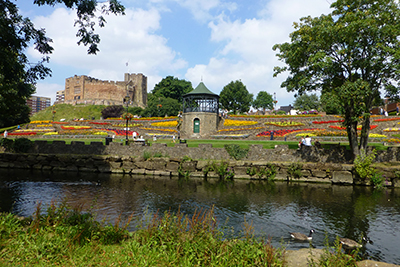 Spring has sprung! This combined with the government's roadmap out of lockdown, we are keeping everything crossed for a slow and safe recovery back to 'normality'. However, as the roadmap is dependent on the Covid figures, it is crucial that we all continue to work together to follow the guidelines and keep each other safe.
As we harbour a little hope as we step closer to spring and summer our Events Page is a great place to browse all the latest things to do locally. As always, these are subject to Covid guidelines.
Before we are allowed to enjoy inside company, pub gardens, restaurant's and those attractions we have all missed dearly, we will continue to remind you to get outside and explore, especially to see nature as it blooms its way into a new season. Not only will this help your physical health, nature has a proven positive impact on your mental wellbeing too. Luckily for us, Tamworth and the surrounding areas are packed with plenty of pretty nature spots, parks, walks and cycle paths. Check out Tamworth Castle Grounds or the nature reserves page of our website to find where you can explore. We just kindly ask that you take all litter home with you to keep our nature reserves safe for the wildlife who live there, and to keep it looking nice for other visitors. Thank you.
Take a look at the Staffordshire Council's Cycle Map for lots of easy access routes. 
Our amazing local New Urban Era group also have plenty of online activities for you to be taking advantage of, so please keep an eye on their website and social media pages to get involved.
We hope this has helped to provide you with some inspiration for things to do whilst we are still in these unprecedented times. Please remember to stay safe, keep hydrated and to take lots of photos; we can assure you, there is some seriously stunning beauty out there! Enjoy! 
For the latest updates on events and businesses re-opening please follow our social media pages on Facebook: www.facebook.com/VisitTamworth Twitter https://twitter.com/visittamworth or Instagram www.instagram.com/visittamworthuk