Still time to audition for a brand new community production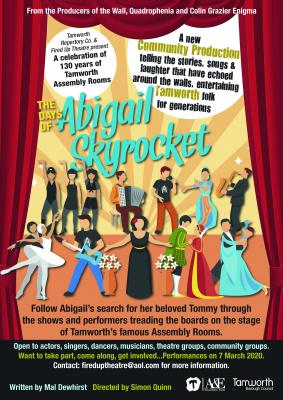 It's not too late to get involved in one of the biggest community arts projects in Tamworth - coming to the Tamworth Assembly Rooms stage this March.
An exciting and innovative theatre production is proudly presented by Tamworth Repertory Company and Fired Up Theatre, the company that successfully gave us the community productions of the Wall, Quadrophenia and Colin Grazier Enigma, produced and coordinated by Simon Quinn and choreographed by Ami Radcliffe.
The project – called The Days of Abigail Skyrocket, relives the history of Tamworth Assembly Rooms through the eyes of a ghost (Abigail) reputed to haunt the theatre as she searches for her beloved husband Tommy. It follows the story through the shows and performers who have trod the boards of the stage over the past 130 years.
Fired Up Theatre has already teamed up with over 50 people from the launch earlier this month, including local choirs, schools, community groups and Tamworth choreographer Ami Radcliffe; but it's not too late to register your interest and get involved with this arts project, which promises to be a huge success. 
Anyone interested can get in touch by contacting Simon Quinn at: fireduptheatre@aol.com or calling Tamworth Arts and Events team on 01827 709314.
The production is written by Mal Dewhirst, a local poet, writer and film maker, who is well known for his work with a variety of community projects and theatre in unusual spaces, including building the Polesworth poetry trail and Wigginton Park Tree Trail stories. 
The vision for the project is that it will involve people from all ages and communities across Tamworth and will involve groups of people who would not normally work together.
The matinee and evening performances will take place at Tamworth Assembly Rooms on March 7, 2020.
Scenes will include paying homage to wartime at the Assembly Rooms, performances by local groups and big names such as The Beatles; bringing nostalgia and a contemporary look on how the Assembly Rooms has entertained crowds for more than 100 years.
Simon Quinn, Director for Fired Up Theatre, said:" We are really excited about bringing a brand-new show to Tamworth, that will celebrate 130 years of Tamworth Assembly Rooms and its long history of community theatre.
"We are looking for people with all sorts of skills and talents to bring this project to the stage and would particularly like to get voluntary groups involved. We are inviting people of all ages and abilities to join in with this exciting community arts project.
"Whether you're a regular performer, new to the stage, fancy singing, want to help out backstage or would love to exhibit poems or photographs, this is your chance to get involved in an amazing project in the newly refurbished Assembly Rooms.
"Get in touch now and join the rehearsals taking place throughout February by emailing: fireduptheatre@aol.com or call the council's Arts and Events team on 01827 709314."
Adey Ramsel, Theatre, Artistic and Events Manager for Tamworth Assembly Rooms, said: "This arts project is the first of many annual events as part of the venue's new community outreach programme. 
"The venue's aim is to include as many community groups and individuals from all walks of life as possible. The project will not be affiliated to any one particular group and will act as a way of bringing people that may not normally join arts projects, onto the venue's stage. 
"Fired Up Theatre were approached as the main co-producers to work alongside the Arts & Events team on this first project, and we look forward to this first event taking shape."