Summer Bandstand music returns with a fantastic new line-up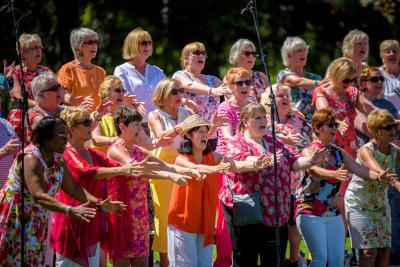 Tamworth Borough Council's programme of Summer Bandstand Concerts begins on Saturday, June 22 and will see a variety of bands, singers and clubs taking to the Castle Grounds stage to delight audiences throughout the summer season.
This year's programme will be launched with Tamworth Twangers Ukelele Group, between 1pm and 3pm on June 22. Join the group for an afternoon of ballads, wartime tributes, popular folk, skiffle and country music.
In addition to the weekend Bandstand Concerts, this year there will be two extra special events – an evening of Music Under the Stars to celebrate Tamworth Assembly Rooms scheduled re-opening for this autumn, in time for the building's 130th birthday; and Blooming Tamworth with Amington Band, that will take place during the afternoon of Tamworth in Bloom judging day, celebrating all the blooming events that have taken place throughout the year.
The full 2019 line-up is as follows:
Saturday June 22 -  Tamworth Twangers Ukelele Group

Saturday June 29 -  Andy Smith with Muriel & Rik

Saturday July 6 – Music Under the Stars – an evening of music performed by Sonic Harmony, Liam Rhodes and Daniel Hatton, from 6pm

Sunday July 7 – Tamworth Wind Band

Sunday July 14 -  English Jones Band

Tuesday July 16 -  Blooming Tamworth with Amington Band

Saturday July 20 - Tamworth Voices

Sunday July 21 - Jones Jazz Orchestra

Saturday July 27 – Tamworth Musical Theatre Company

Saturday August 3 – The Tones

Saturday August 10 – Phil England and Friends

Saturday August 17 - 58s Blues Band

Saturday August 31 – Amington Band     
Sponsored by Ankerside Shopping Centre, all the concerts are free of charge, so bring your picnic baskets and blankets down to Tamworth Castle Grounds for an afternoon of music. Performances generally take place at intervals between 1pm and 4pm (subject to weather conditions).
Cllr John Chesworth, Cabinet member for Culture and Operational Services, said: "The Summer Bandstand Concerts organised by our Arts & Events team provide the perfect opportunity for people to enjoy an afternoon of live entertainment in beautiful surroundings. The Bandstand is an historic feature of the Castle Grounds and it's great to see it being brought to life with live music and performances. 
"Whether you're taking a break from shopping, or enjoying a picnic with friends and family, we'd love to see you there enjoying the music on offer. The two additional events for this year are guaranteed to form a great celebration at the Bandstand."
The bandstand concerts are part of a great calendar of outdoor events organised by Tamworth Borough Council's Arts & Events team. For the full 2019 line-up please visit http://www.tamworthartsandevents.co.uk/outdoor-events