Summer of free activities gets Tamworth fit and sporty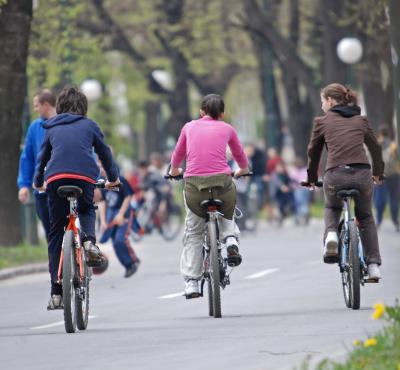 Thousands of children aged two and over have been busy enjoying another exciting programme of free sports and activities during the summer.
Tamworth Borough Council's Sports Development Team unveiled their  programme of sporting events, 'Playscheme 2018', in July this year and have reported record numbers of over 3,000 children and young people attending the daily programme throughout the school summer holiday.
The six-week scheme started on July 23 and ran until August 31, with a wide range of activities for children aged two and upwards. All the activities were completely free of charge and including popular pastimes such as Futsal, Jump Xtreme, swimming, Sky Trail, dance, bowling, adventure golf, tennis, cycling and much more.
In addition, and new for this year, 'That Fun Place' offered three levels of soft play and climbing. All activities were fully booked within days of being announced.
Activities took place across the borough, with venues including the Castle Grounds, Wilnecote Leisure Centre, Planters Garden Centre, Brent House in Wilnecote, SMDA – dance academy, the SnowDome and Tamworth Namco Funscape bowling alley.
Over the course of the six weeks summer holiday, the programme provided more than 190 hours of physical activity, helping children and young people achieve the recommended activity levels of 60 minutes per day, emphasising the message that being active for at least an hour a day is linked to better general health, stronger bones and muscles and higher levels of self-esteem.
To follow on from the success of the Playscheme, a day of free fitness taster sessions for people of all ages has been organised in the Castle Grounds this month, as part of National Fitness Day on Wednesday, September 26.
The full timetable of activities will be listed at: www.activetamworth.co.uk/playscheme
Cllr John Chesworth, Cabinet member for Culture and Operational Services, said "These activities are always a huge success and proven to be very popular, it is great to see so many young people in Tamworth participating and getting active.
"Tamworth Borough Council's Sports Development Team have worked with sports clubs from across the borough to put together the summer programme, which offered a wide range of events for the six-week break. It is brilliant to see that following this success, there will be a range of free activities available for all ages on National Fitness Day.
"We are delighted that children and young people from across Tamworth found the new programme exciting and signed up to try something they may not have tried before".