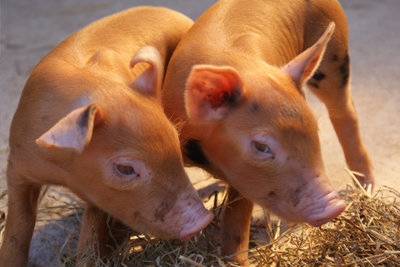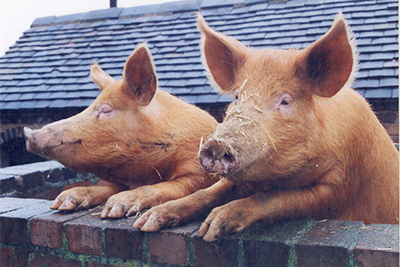 The distinguished breed of the Tamworth Pig enjoys fame across the world and Tamworth is renowned for producing excellent quantities of pork. The pigs are characterised by their long legs and neck, long narrow body, elongated snout and pricked up ears. The breed's most distinctive feature is its ginger, orange-red coat. This has led to the breed being known as 'Sandybacks' or 'Tamworth Reds'.
The breed is believed to have originated in Ireland in 1809 when Tamworth's famous second baronet Sir Robert Peel (1788 - 1850) discovered a breed of pig known as an 'Irish Grazer', and had several of the animals imported to England to the Peel Estate, Drayton Manor.
Today there are thought to be less than 300 registered breeding sows in the UK, leading to the breed being classified as 'Vulnerable' by the Rare Breeds Survival Trust.
The famous Tamworth Two – Butch and Sundance - made headline news in 1998.
Two Tamworth pigs escaped on their way to an abattoir in Malmesbury, Wiltshire, in January 1998. Having squeezed through a fence and swum the River Avon, the two pigs went on the run!
After the story appeared in the national press, the pigs were given the nicknames 'Butch Cassidy' and 'The Sundance Pig'. The pigs were eventually recaptured over a week later and purchased by the Daily Mail newspaper who reprieved them from slaughter at the Rare Breeds Centre, an animal sanctuary near Ashford in Kent.
In 2004 the BBC dramatised the incredible story in the film 'The Legend of the Tamworth Two.'
Look out for the various pig statues, located over the town! And download the Tamworth Pigs leaflet for more information.