Tamworth's Art Attack 2017 is celebrated at The Big Draw Awards Ceremony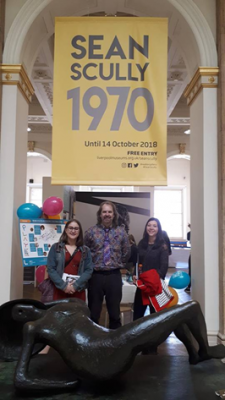 Representatives from Tamworth have attended a special ceremony to collect an international art award on behalf of the town.
Tamworth Borough Council's Arts & Events team have celebrated scooping an award at The Big Draw Festival Awards Ceremony 2017, which took place on Saturday, September 29, at The Walker Art Gallery in Liverpool.
The award for 'Community, Participatory and Libraries Award', sponsored by The Arts Society for an 'outstanding event', was given after Tamworth joined the international event for the first time last year - bringing the town centre to life with art and creativity.
The Big Draw event, named in Tamworth as 'Art Attack', offered people the opportunity to 'have a go' at art with a difference. Professional artists and illustrators were on hand to offer guidance and assist all budding artists, allowing people to express their creativity in an exciting and original way.
The ceremony attended by ambassadors and organisers of the The Big Draw Festival, is an annual event which this year celebrated eight winners selected for the most imaginative and engaging events from the previous year's festival.  
Andy Nash, a local artist who has helped deliver the art event in Tamworth, attended the ceremony to receive the award on behalf of Tamworth. After the ceremony he said: "I would like to say a massive thank you to Tamworth Borough Council's Arts & Events team, for giving me the experience of going to Liverpool to receive the award for all our efforts at last year's Big Draw Festival. I was extremely humbled by the experience and felt very privileged to be invited to represent everyone involved in what was an amazing collaboration.
"My art colleagues Hannah, Hayley and Jessica had a really great time at The Big Draw awards at the Walker Art Gallery. Thank you all so much for giving us this amazing opportunity, it has made us even more determined to build on our creative strengths and we hope that this year's event, which took place on October 6, will make an even greater impact for 2018 awards nominations.
"It is a real privilege to work once again with the great people of Tamworth, to raise aspirations, breaking down creative barriers, changing and improving and the quality of life of so many people."
The Big Draw Awards recognise innovation, resourcefulness, widening participation and engagement with the universal language of drawing and the annual theme. The ceremony recognised towns across the world for their creativity and inspirational ideas. People of all ages and creative abilities took part in festival last year, celebrating the theme - 'Living Lines'.
Tamworth Borough Council was one of eight organisations selected from a shortlist of projects to win an award and a top prize of £500.  
Art Attack returned to Tamworth for the second year on Saturday, October 6 and proved to be popular again with people of all ages. Artists, including Andy Nash, joined Art Attack for a packed day of arts events and activities in Tamworth, allowing the town centre to come alive as people of all ages were encouraged to pick up a pencil, paintbrush or gadget and get creative.
The Big Draw (formally The Campaign for Drawing) was founded in 2000 and is an arts education charity that promotes visual literacy and the universal language of drawing as a tool for learning, expression and invention.
Throughout the year, The Big Draw demonstrates the social, economic and health benefits that drawing can bring and provides opportunities for everyone to access them. 
Full details on all award winners can be found here: www.thebigdraw.org/announcing-the-big-draw-festival-2017-award-winners
Cllr John Chesworth, Tamworth Borough Council's Cabinet member for Culture & Operational Services, said: "This event has inspired and offered a unique and exciting opportunity for people to take part in art – with a difference. 
"I am delighted that the Arts & Events team have received this award for Tamworth Borough Council through creating opportunities for people of all ages to contribute to community art and try something new, while celebrating the town's heritage. 
"Hard work, imagination and skill have helped to bring The Big Draw Festival to life in Tamworth with our first entry acknowledged as being creative, innovative and socially engaging.  I hope everyone enjoyed this year's event and I look forward to see if we are honoured with an award again."  
Members of the public are now being encouraged to vote for their favourite art piece in the Big Draw competition 2018 at: www.thebigdraw.org/vote.
More information on arts and events in Tamworth is available at: www.tamworthartsandevents.co.uk