Thousands enjoy a fun day at 2019 We Love Tamworth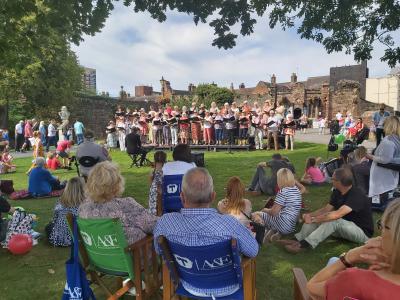 The sun shone as thousands of families enjoyed a great day of entertainment and activities as part of the 2019 We Love Tamworth event in the Castle Grounds.
Tamworth Borough Council's Arts & Events team were delighted that a beautiful and warm day welcomed estimated crowds of around 5,500 people to the Castle Grounds on Saturday, September 14.
Visitors enjoyed fairground rides, a record number of 40 stalls, inflatables, a dog show, fantastic live music from talented young local people and Tamworth Voices, the return of the strongest man competition and coverage of the day from Radio Tamworth.
This year, We Love Tamworth were also joined by New Urban ERA – organisers of the incredibly successfully Tamworth Urban Arts and Sports Festival – which brought a number of urban artists to the event and involved visitors to get creative.
Wingy N4T4 and Rj77 – who painted the stunning murals at Belgrave Dance Studio, invited people to the free Art in the 'Dell'. Plus Beatboxer Crumpets hosted a free workshop along with spray art, which children loved.
Vic Brown from Nue said:" This year's We Love Tamworth event was a great way for us at New Urban Era to end our outdoor art season. With its relaxed but vibrant atmosphere, it was just what we need after our busy year."
"It was a great opportunity for us to showcase our art and encourage visitors to learn new skills at our pop-up workshops. Well done to all involved."
This year's event also had the addition of the Tamworth Literary Festival - Where the Rivers Meet: Poetry in the Park, near to the rivers Tame and Anker. Poets from around the Midlands joined together to celebrate the magic of rivers and the history of Tamworth.
The stalls arena was again run by Tamworth Lions Club, which has been supporting local charities and causes for over 40 years. This year the event saw another record-breaking number of stalls, with more than 40 in attendance, made up of a range of charities, groups, businesses and local organisations.
Cllr Richard Kingstone, Mayor of Tamworth attended the event and commented on his social media page: "Another amazing day here in Tamworth. The Castle Grounds was packed out with happy people showing just how much they love Tamworth. It was great to chat to so many. Lovely photos too." 
Visitors have since taken to social media to praise the We Love Tamworth event:
Anthony Osc Perks, said: "Absolutely fab day guys, loved every minute!! You guys have done Tamworth proud. We Love Tamworth saw thousands of people see what our town is about."
Margaret Jackman Manuell, a volunteer on one of the stalls posted on Facebook: "A very well-run busy event, with lots of different attractions and activities, and many visitors. It was good to see so much going on at the lower lawn. I enjoyed it in the Castle Lower Grounds, volunteering on the Shoebox Theatre stall."
Sarah Broadmore added: "We had such a fun day." While other visitors posted their cute dog show photos.
Cllr John Chesworth, Tamworth Borough Council's Cabinet member for Culture and Operational Services, said: "This was an amazing We Love Tamworth event. The Arts & Events team pulled out all the stops to create a fantastic and memorable day for families. As well as all the popular favourites, such as the inflatables, fair and the wide array of charity stalls and displays from local groups who all help to make a difference in Tamworth, this year's event also saw the return of some well-loved features.
"We Love Tamworth helped to boost visitor numbers and this is something we are hoping to expand on in future years.
"Now in its seventh year, We Love Tamworth has become a popular and firm favourite among people of all ages. Each year the event grows bringing more local residents and visitors to our town. A huge thumbs up to everyone involved in organising another fantastic community event."
More information about this, and all other events organised by Tamworth Borough Council, is available at www.tamworthartsandevents.co.uk