Visit Tamworth for half-term holiday fun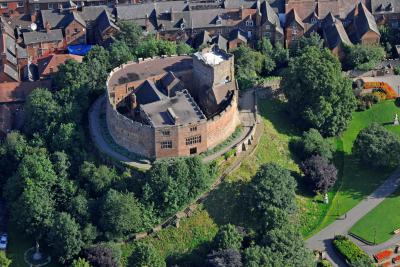 There's plenty to keep families entertained in Tamworth during the February half-term, from dragon hunting and adventure golf, to farm visits and sports.
If you're looking for things to keep the children entertained next week, the Visit Tamworth website is a great place to start. It's full of ideas and has a busy What's On section, as well as highlighting some of the fantastic attractions the area has to offer.
For dragon-hunting adventure head to Tamworth Castle for the Dragon Hunt between February 15 and February 21 to track down the resident dragon, Ruby, and her brother Hafgrim, who have gone missing. Visitors are invited to help find the pair, decorate the dragons' den, find the eggs and take part in dragon-themed crafts.
If you are looking to get sporty this half-term, then Tamworth Borough Council's Sports Development Team is inviting residents to get more physically active this season and try free or low cost activities, every Monday to Friday, at The Castle Grounds Activity Centre.
The centre offers a range of activities including a recovery gym, walking and cycling.
The Active Recovery Gym offers new members an appointment for a health assessment carried out by a qualified member of staff, who will then discuss exercise choices and set an appropriate programme.
Children aged five and over are being invited to take part in an exciting programme of free activities this half-term, including trampoline jumping, dance and bowling, which will take place at local venues including the Castle Grounds, Brent House in Wilnecote, SMDA – dance academy and Tamworth Namco Funscape bowling alley. Bookings are being taken now as free spaces are limited.
Further information on the dates and times sports activities are taking place in Tamworth can be found at: www.activetamworth.co.uk.
Natural Mindfulness Well-being walks take place on Saturday mornings and Sunday afternoons. Switch off that busy mind, and be in a different headspace to find some peace. Booking is essential, fully qualified guide on every walk, very informative and lots of fun. Find out more: www.mylifenaturals.co.uk .
Other activities listed on Visit Tamworth include golf, Winter Open Week at Middleton Hall, half-term holiday clubs at various venues including, Impact Kids at Coton Green Church, plus Diggin' Dinos at Ankerside Kids' Zone, and a packed programme at Ash End Children's Farm.
There's also plenty on offer at the wide variety of Tamworth attractions including Tamworth Snowdome, Thomas Land, Jump Xtreme, Namco Funscape and Monty's Indoor Adventure.
Local sports bar Corey's is having movie days showing Disney's Frozen on Monday, February 17, Wednesday 19 and Friday 21, from 3pm. Book a table by calling 01827 64830.
If the weather allows, Tamworth is a great place to get back to nature with an abundance of nature reserves and country parks to explore; perfect for a crisp winter's walk. Tamworth's LNRs are also hosting some fabulous holiday activities from den building to swinging in a hammock. Bookings can be made via the website: www.staffs-wildlife.org.uk/events .
Cllr John Chesworth, Cabinet member for Culture and Operational Services, said: "Tamworth has so much to offer when it comes to family and child-friendly activities to keep the boredom at bay during the school holidays. The February half-term is no exception and we'd encourage people to visit some of our great local attractions, or take advantage of the free or low cost activities we've put on via our Sports Development team."
Visit www.visittamworth.co.uk for more information, including dates, times and prices where applicable. Or visit the Facebook page www.facebook.com/VisitTamworth/ or Twitter @VisitTamworth.
Groups, bands, organisations, attractions and businesses are invited to advertise their events free of charge on the Visit Tamworth website. Visit the What's On page for more information.