Wigginton Park takes silver in regional In Bloom competition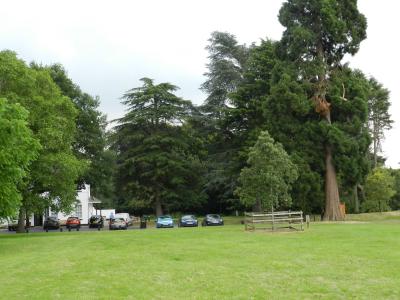 One of Tamworth's best-loved parks has scooped silver gilt this year in a Heart of England in Bloom category.
The borough's accolade in the 'Parks and Open Spaces' category was revealed at a ceremony at Tally Ho Conference & Banqueting Centre in Birmingham, on September 12. Representatives from Tamworth Borough Council's Assets and Environment team attended the ceremony to collect the award.
Wigginton Park competed for the fourth year in the parks and open spaces category of the Heart of England in Bloom campaign. The award is open to parks and open spaces of all kinds and is judged on three aspects - community & engagement, maintenance & development and environment.
Wigginton Park entered the awards as a large park of more than 20 hectares. Its entry has been led by the Friends of Wigginton Park, with the support of Tamworth Borough Council.
The Friends of Wigginton Park was started by a group of students from the Rawlett School over ten years ago and sees pupils, local residents and members of Tamworth Rugby Club coming together once a month to work in the park.
Together with support from Tamworth Borough Council, Wild About Tamworth and Staffordshire Wildlife Trust, the group has carried out a range of improvements such as the planting of 1,000 trees, including the preservation of species, introduced a new wildflower meadow, a community orchard and a Tree Trail.
A variety of walks and activities take place in the park, such as bat walks and bird surveys, and more projects are planned, including the restoration of wetlands which will hopefully bring more amphibious species to the area.
It was a lovely summer's day on July 16, as the judges, Nicola Clarke and Roger Tait, were taken on a tour of the Georgian parkland surrounded by Giant Sequoia, Cedar and other well-established specimen trees.
Chair of the Friends of Wigginton Park, Richard Kingstone, said: "We know Wigginton Park is a very special place and this has been recognised by this result. Take a walk through the park on any day and you will be greeted by a variety of wildlife, sporting activities, dog walkers, children playing etc. It really is used by everyone in our community. And this was noticed by the judges."
"Over the years we have developed a management plan with the support of Staffordshire Wildlife Trust and Tamworth Borough Council. We meet monthly and carry out a variety of activities, including maintenance of the wetlands area; planting bulbs and wild flowers and the community orchard.
"It will be exciting to see what we can achieve for next year."
The award ceremony comes just one week after Heart of England in Bloom announced that Tamworth had won gold in the 'Small City category' in the regional campaign for the tenth year in a row.
Cllr John Chesworth, Cabinet member for Culture and Operational Services, said: "It is fabulous to see the huge amount of hard work and dedication from the volunteers who make up the Friends of Wigginton Park being rewarded with the silver gilt this year. It acknowledges the commitment to high standards of environmental works and community involvement.
"The park is an amazing place for walkers and families.  The introduction to the park of a new 'Tree Trail' this year has captured the imagination of visitors to Wigginton Park, with its fantasy stories and characters it is very popular with families.
"I look forward to seeing the new projects planned in 2020 and the results of their continued hard work."
More information about the park Tree Trail and a download booklet can be found at: www.tamworth.gov.uk/treetrail
Anyone interested in getting involved can find out about forthcoming task days on The Friends Wigginton Park Facebook page at www.facebook.com/friendsofwiggintonpark.