Book now for a stall at this year's 'We love Tamworth' event.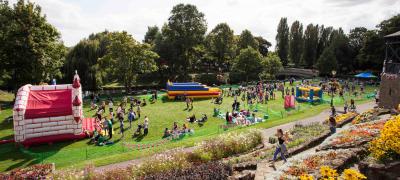 The popular We Love Tamworth extravaganza returns to the Castle Grounds in September and is looking for any groups, organisations, charities or businesses that are interested in booking a stall at the event – all in the name of charity.
A highlight in the town's annual calendar of events, We Love Tamworth will be back on September 14, bringing with it a jam-packed day of activities for the whole family.
Presented by Tamworth Borough Council's Arts & Events team, the exciting event is now in its seventh year. The event brings a variety of entertainment for the day including fairground rides, games, children's zone, a dog show and the return of Tamworth's Strongest Man competition.
With record-breaking numbers of visitors from near and far in previous years, why not join the event and hire a space for a stall to promote, advertise or sell your business or organisation?
The stalls arena is again being run by Tamworth Lions club, which has been supporting local charities and causes for over 40 years. Every penny received by Tamworth Lions from the stalls will be used to fund deserving causes across the Tamworth area. Charity stalls are priced at £18 and businesses £35 for a three metre by three metre space.
A variety of stalls have already been confirmed including Tamworth Samaritans, Tamworth Wellbeing & Cancer Support Centre, Tamworth Pantomime Company, Simons Heros, Tamworth and Lichfield Sea Cadets, Private Jim Ferry, The Pea Pod Family, Greyhound Trust Hall Green and Sharon Rose Amateur Dramatics.
There will also be a dedicated Children's Zone run by Funtopia featuring Bungee runs, obstacle course, soft play, bouncy castles, activity castles, sumo suits and much more.
There is a charge to enter this area, £5 children's wristbands and £1 adults.
Any charities, businesses, groups or organisations interested in booking a stall at the 2019 event can contact Mark Kyte at Tamworth Lions by emailing mark.kyte@tamworthlions.org.uk.
Mark Kyte said:" Thanks to money raised over the past years at the We Love Tamworth event, we have been able to purchase items such as a specialist wheel chair, a public access defibrillator, help finance Santa trips for Two Rivers Special School and provide a Snowdome party for blind and partially sighted children and young adults.
"If you would like more details about Tamworth Lions and the work we do please get in touch"
Dog lovers are invited to enter their four-legged friends into the fun dog show, with a variety of classes competing regularly throughout the day. These include the Waggiest Tail, Cutest Puppy, Best Rescue, Golden Oldies and finishes with the Tamworth Champion 2019. The show starts at 12pm-2.15pm. More information about the dog show is available by calling 0121 240 8130 or 07894 644572.
At the centre of the festivities there will again be a special action-packed area to keep youngsters busy all day. The dedicated Children's Zone, run by Funtopia, will feature a variety of activities including bungee runs, an obstacle course, soft play, bouncy castles, activity castles, sumo suits and much more. There is a charge to enter this area, £5 children's wristbands and £1 adults.
Cllr John Chesworth, Tamworth Borough Council's Cabinet member for Culture and Operational Services, said: "We are delighted to be able to host We Love Tamworth again. It has become a great day out and a firm favourite among people of all ages. Each year the event grows more popular with local residents and visitors to our town.
 "I hope that more charities and businesses will sign up for a stall and that Tamworth residents will pop along and take advantage of all the family fun."
The fun kicks off at 11am and will continue throughout the afternoon until 4pm.
More information about this, and all other outdoor events organised by Tamworth Borough Council, is available at www.tamworthartsandevents.co.uk