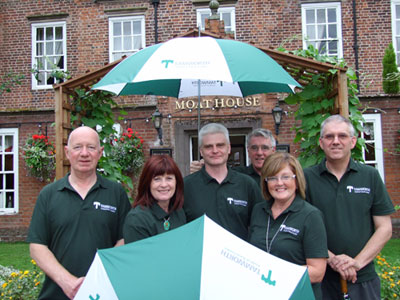 Take a tour of Tamworth with an expert guide!
It's easy to fall in love with Tamworth and the surrounding area. Whether visiting for just a day or looking for somewhere to stay for a short break, Tamworth is a great place to discover and explore.
Why not let one of our Registered Green Badge Tourist Guides take you on a guided tour of the town, find out about our people and learn about our buildings. Share in their passion and listen to the fascinating stories they have to tell. They can provide town tours with optional extras such as visits to various attractions, morning coffee, afternoon tea, lunch or cream teas. Standard tours last around one and a half hours, but the time and topic can easily be arranged to suit each group.
Tamworth Green Badge Guides have been guiding in Tamworth for more than 5 years and provide a varied programme of insightful and historic tours throughout the year. A significant number of Tamworth's Green Badge Guides are also qualified Blue Badge Guides.
How to book a tour for a group:
If you would like to arrange a tour for your group, please contact the Tamworth Tourist Information Centre.
Tel: 01827 709581/618. Email: tic@tamworth.gov.uk
www.tamworthtic.co.uk
Alternatively you can follow this link to the British Guild of Tourist Guides website


Coach parking
Tamworth Coach Parking is situated within the Jolly Sailor Car Park, Bonehill Road. There are 9 coach bays available. Coaches are able to load and unload on Corporation Street situated in the town centre but not park here, see the Tamworth town map.
Obtain a FREE daily Coach parking permit - If you are planning a coach trip to Tamworth, you are able to obtain a FREE coach parking permit. These must be booked at least 7 days in advance, and must be placed in the front window of the coach whilst parked. Please contact Tamworth Information Centre to obtain a permit, Tel: 01827 709581 or email: tic@tamworth.gov.uk
School packages
Tamworth Castle offers a wide range of educational packages to suit all key stages, and Tamworth is rich with heritage and culture. To find out more, visit the Castle's school webpage: www.tamworthcastle.co.uk/schools