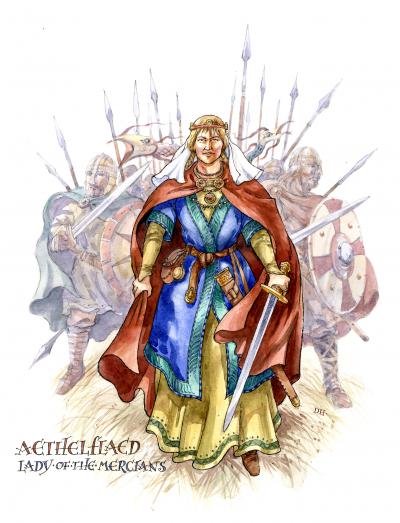 2018 is a very special year in Tamworth as it marks 1,100 years since the death of one of the most powerful and influential women in Anglo-Saxon England.
It was on June 12, 918, that Aethelflaed 'Lady of the Mercians' took her last breath in Tamworth – the capital of the ancient kingdom of Mercia - before being finally laid to rest in St Oswald's Priory in Gloucester, alongside her husband Aethelred. To learn more about the history of Aethelflaed please visit: www.tamworthcastle.co.uk/aethelflaed
The anniversary of the death of Aethelflaed (also known by the Victorian spelling of Ethelfleda) will be marked throughout the year in Tamworth with a number of major events, including the unveiling of a new six-metre statue, the creation of the town's biggest ever piece of community art, a major commemorative church service, talks, a special guided walk, commemorative ale and an academic conference weekend drawing academics and delegates from all over the world.
Special Events taking place 12-15 July:
Church service - The Tamworth and District Civic Society is organising a major commemorative service at St Editha's Church to mark the actual anniversary of Aethelflaed's death on June 12. Around 500 guests have been invited from across the country and will include eight Bishops, well-known TV personalities, historians, authors, civic dignitaries from Aethelflaed's fortified Mercian towns and a Danish Ambassador.

The Tamworth Lecture – Tamworth & District Civic Society's annual Tamworth Lecture will be given by historian and broadcaster Michael Wood on the subject of Aethelflaed. This will be held at St Editha's Church at 7.30pm on Thursday, July 12, and tickets will be on sale to the general public from 13 June.

Tamworth Literary Festival Martin Carver talk - Tamworth Literary Festival welcomes archaeologist, writer and broadcaster Martin Carver to the Globe in Tamworth on the evening of Friday, July 13. His talk will document the excavation of the fort built by Aethelflaed in Stafford. Further information and tickets are available on the EventBrite website.

Tamworth Literary Festival panel talk - Organisers of Tamworth Literary Festival have also planned a special talk which will see a panel of female historians and authors discussing Aethelflaed as a woman and an Anglo-Saxon. This takes place on Saturday, July 14, from 11am to 3pm. Tickets cost £10 including a buffet lunch. The panel will be chaired by Dr Sara Read, together with Dr Jennifer Evans, Annie Whitehead and Marianne Whiting. More information and ticket details for the Tamworth Literary Festival events are available at www.facebook.com/TamworthLiteraryFestival/.

Mercian Mosaic unveiling – A huge and ambitious community arts project, involving hundreds of Tamworth residents, will see 1,400 individual yard square tiles being brought together to form one stunning mosaic. The pieces will be laid out on the lower lawn of Tamworth Castle Grounds for one day only at a grand reveal on Saturday, July 14. Learn more about the Mercian Mosaic.

Aethelflaed Family Festival – A range of Anglo-Saxon themed events have been planned to coincide with the Mercian Mosaic unveiling in the Castle Grounds on Saturday, July 14. These will include an Anglo-Saxon encampment and a range of fun themed activities for all the family.

Saxon Living History - Find out what life was like for those living in Tamworth during Saxon times. Tamworth Castle, 14 & 15 July. www.tamworthcastle.co.uk/tamworth-aethelflaed-festival

Academic conference - Scholars from UK and international universities will descend upon the town for a special weekend conference with a packed programme of lectures inspired by Aethelflaed. The event, on July 13 to July 15, will explore themes such as women and political power in early Medieval Britain, the re-making of Mercian rulership, the origins of St Editha's Church, the uncontested succession of Aethelflaed's daughter as an exceptional example of female succession, and Tamworth in the Domesday book. Delegates are already confirmed from the United States, Canada and Europe. The conference is being co-ordinated by scholars from Keele, Chester and Manchester universities and while most of the lectures will be ticket only, the weekend will include a free lecture open to Tamworth residents which will be announced nearer the time. Go to https://aethelflaed.org for the conference programme and registration.

Guided walks - Tamworth Guild of Town Guides are preparing a special guided walk this summer which will focus on the town's Anglo-Saxon and Norman heritage. Dates are 1 & 14 July and must be pre-booked from Tamworth Tourist Information Centre.

Aethelflaed Ale - Tamworth Brewing Co in Market Street will be reviving their award-winning Aethelflaed Ale to accompany the many celebrations taking place in the coming months.

New statue - Another key event in the celebrations of Aethelflaed's life is the much-anticipated unveiling of the new six-metre tall statue of the Anglo-Saxon legend which has been construct by artist and sculptor Luke Perry. Lady Aethelflaed is now installed on the roundabout outside Tamworth Railway Station. Read more here.
Watch 'Our Aethel's' installation video below.
And if you can't wait until July. then Gloucester have an Aethelflaed Festival in June too. See the Gloucester programme here.
Join in now! - we're asking people to join a social media campaign and #DoTheAethel!