The Last Kingdom cast visit Tamworth in tribute to Aethelflaed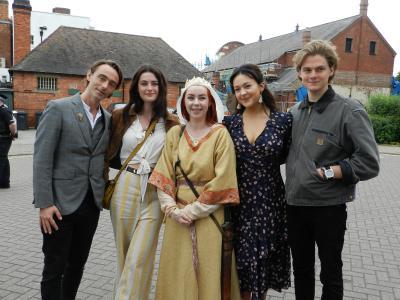 Actors from TV's The Last Kingdom were among the hundreds of civic dignitaries, historians, clergy and member of the royal family who came together in Tamworth to mark the 1100th anniversary of the death of one of the most influential people in the town's history.
The congregation at St Editha's Church paid tribute to Lady of the Mercians, Aethelflaed, in the church she rebuilt, worshipped in and where her death would have been mourned exactly 1,100 years ago to the day.
Guests at the service on June 12 included the current Earl of Wessex, HRH Prince Edward who is a descendant of Aethelflaed, and the actors who play Aethelflaed and her family in the popular TV drama The Last Kingdom.
The visiting cast were David Dawson, who plays King Alfred, Eliza Butterworth who plays his wife Aelswith, Timothy Innes who portrays their son Edward and Millie Brady who plays Aethelflaed.
As well as attending the church service, the actors visited Tamworth's new Aethelflaed statue on the roundabout outside Tamworth Railway Station, the old stone statue in the Castle Grounds and enjoyed a tour of Tamworth Castle.
The cast have just finished filming the third series of The Last Kingdom, which will be released on Netflix later this year, and have been researching the history of the characters they play.
David said they felt it was fitting to attend the service in Tamworth as a 'nod' to Aetheflaed and the important role she played in the making of England.
"To be here in Tamworth today is really special, because Aethelflaed was instrumental in making King Alfred's dream and vision of a united England come true.
"Her contribution, hard work, determination and fierce intelligence laid the foundations for an England that we may never have had otherwise," he said while being filmed at St Editha's for BBC Midlands Today.
Millie said: "Doing the show and having this huge chapter of history opened up is amazing and coming here and hearing more about the history of Aethelflaed is really fascinating."
Eliza said "I really enjoyed the service - it was incredible to be a part of such an important historical celebration, and we have all learned new and interesting information about our characters."
The group was also impressed with the new Aethelflaed statue created by artist Luke Perry, describing it as a 'fabulous modern interpretation' and said they enjoyed their visit to Tamworth, which was Aethelflaed's main seat of power as the capital of the ancient kingdom of Mercia.
Organised by Tamworth and District Civic Society, the commemorative service included acclamations and prayers by Archdeacons and Bishops from Aethelflaed's Mercian towns, readings from authors, historians and HRH Prince Edward, plus a selection of fitting songs and hymns.
Among the readings, TV historian Michael Wood recited a 'Mercian Royal Woman's Prayer' from a ninth century prayer book, thought to have been given to a Nunnaminster in Winchester by Aethelflaed's mother Queen Aelswith, professor Judith Jesch read extracts from the Mercian Register in Old English and historian Dame Jinty Nelson delivered a keynote address.
The service also saw the unveiling and dedication of a new stained glass window of Aethelflaed, which was donated to St Editha's Church by David Biggs and his sister, Susan Biggs, in memory of their parents Norman and Mavis, who were devoted to Tamworth and its church. It is the first window in the church depicting Aethelflaed, although she rebuilt the ancient monument in 913. It was designed by Robert Paddock of Heart of Glass.
David Biggs, Chairman of Tamworth and District Civic Society, said: "It was logistically very difficult to organise an event for well over 500 VIPs attending from all over the British Isles, and fit them all into the church, albeit the largest in Staffordshire.
"Guests have said that the Civic Society has done Tamworth and Aethelflaed proud with this commemoration and royal visit. We have raised the national profile of both the town and our Lady of the Mercians in a very positive and constructive way.
 "It was a very happy, exciting and memorable day all round and I'd like to express my thanks to everyone who has helped, supported and contributed towards turning an idea I had back in 2013 into a tremendously successful reality in 2018.
"Aethelflaed is the 'founding mother of England' and as Tamworth was her favoured seat and power base after she rebuilt the town and church in 913, and the place where she died on June 12, 918, it is only right that Tamworth should lead the way in commemorating and honouring this iconic warrior queen, without whom Tamworth and England would not exist. Tuesday's event showed that the nation agrees with us."
Cllr John Chesworth, Tamworth Borough Council's Cabinet member for Culture and Operational Services, said: "The Civic Society did a great job organising the service yesterday and we were delighted also to welcome the cast from The Last Kingdom to Tamworth, as well as the hundreds of dignitaries in attendance.
"The fact the event attracted so many people from across the country shows just how significant this part of our history is, as well as the role of Aethelflaed, who is gradually beginning to get the true recognition she deserves. This is also great news for Tamworth as the Aethelflaed story, and Tamworth's part in it, is now being highlighted on a national stage and will hopefully encourage more people to visit and explore the rich heritage of our great historic town."