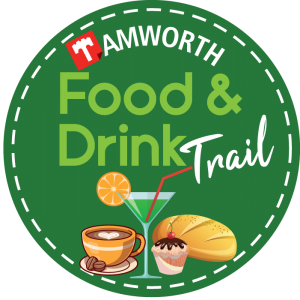 Tamworth Borough Council is carrying out a number of projects to transform Tamworth and make it a more appealing place for people to visit. And one of the projects that will help us to go some way in achieving that is our Food and Drink trail.
The Food and Drink trail highlights our different town centre businesses to show all that we have to offer. We have produced a map which can be downloaded here. It is also available as a printed pocket-sized map which you can collect from Tamworth Information Centre, (inside Tamworth Assembly Rooms) Tamworth Castle and at some of the trail locations. There's also a FREE smartphone app version too! Just download the 'Tamworth AR Trails' app from your app store.
As part of the project, businesses will have the spotlight put on them, free of charge, with one of our colleagues visiting premises to take pictures and videos for us to promote venues on our websites and social media platforms.
This project is thanks to the ERDF Welcome Back Fund.
It is important to note that the Food and Drink trail applies only to town centre businesses with seating.
Take a look at 'Gordon Ramsay' visiting restaurants and bars in the town centre as part of the Food and Drink Trail launch below:
---
Want the Food & Drink Trail on your phone? - Download our FREE app
How it works
Our town centre has been brought back to life in a new food and drink trail app! 
The app comes with a fully interactive map and guide on how to access each point. 
Search for 'Tamworth AR Trails' in the Google Play or Apple app store (whichever you use). Or click on one of the following links if you are currently on your device: direct link to app on Google Play store, direct link to app on Apple app store. Then install the app onto your device (make sure to do this over a secure Wifi connection for a fast download)
Once on the app, select 'Launch Food & Drink trail'. You will then be able to view the location and information of 50+ venues in our town centre. The next step is to head into town and find somewhere to eat or drink!
You can also view a listing of town centre eateries on the Eat & Drink section of this website.