Approved Venues
Tamworth currently has two approved venues, The Castle Hotel and Tamworth Castle.
Just imagine your perfect wedding, standing in a castle where you and your partner can be King and Queen for the day. Tamworth Castle with its stunning location and Great Hall is the ideal wedding location and boasts Grounds that offer a perfect backdrop for your special day.
With a magnificent oak timbered roof and decorative leaded windows, the Great Hall can seat up to 60 guests, giving you a unique setting and memories that will last forever. After the ceremony, the Castle Grounds are the perfect place to take those all important photographs. More information: www.tamworthcastle.co.uk/weddings
Registration Office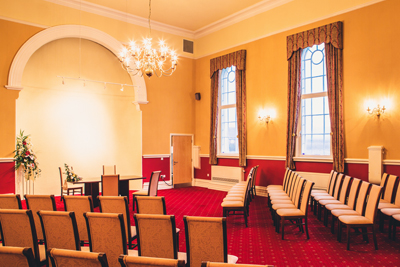 Tamworth has one registration office which is located in the town centre. It has a choice of two rooms, the Swan Room seats 60 guests with a feature ceiling and chandelier, whilst the Dove Room is ideal for smaller parties comfortably seating 20 guests. 
Address: Church Street, Tamworth. B79 7BX
Opening hours: This office is only open by appointment only from 9:30am - 4:30pm Mondays, Tuesdays and Wednesdays. 
Telephone: 0300 111 8001 (Telephone enquiries to registration services can be made during the following times: Monday to Friday: 8am to 6pm,  Saturday: 9am to 5pm)
Email: registrarsenquiries@staffordshire.gov.uk
Fax: 01785 276026
For further information about getting married and other venues in Staffordshire, check out the Staffordshire Weddings website: www.staffordshirewedding.info