Can you follow the pumpkin trail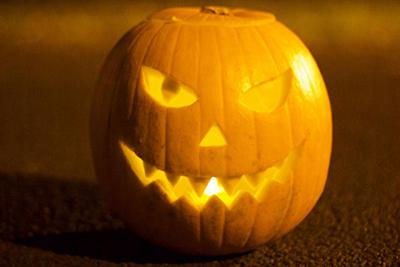 Get ready to find hidden pumpkins around Tamworth this half-term and be in with a chance to win a new children's stunt scooter!
Halloween celebrations are going to be a bit different this year with the current Covid-19 restrictions, but Tamworth Borough Council's Arts and Events team have come up with a pumpkin activity that kids can follow and enter a draw to win a new scooter, courtesy of Britvic.
Six Halloween pumpkins will be displayed in windows around the town centre from October 24 – October 31. Each pumpkin will have a letter carved into them.
Families are invited to collect a free activity sheet from the Castle Kiosk and start the trail to find the hidden pumpkins. Follow the clues to find each pumpkin, and make a note of the letter in the boxes on the sheet. The six letters will make a word related to Halloween! You can also download the activity sheet here.
Once completed, forms should be returned to the kiosk where all entries will be entered into the scooter prize draw and participating children will receive a free Britvic drink. 
All entries must be handed into the Castle Kiosk by 4pm on Sunday, November 1st. The Castle Kiosk is open daily from 10am-4pm.
The prize, a stunt scooter, is an Urban X design, ideal for new riders. It has a strong aluminium box deck, threadless headset, double clamp, one piece T-bar, rubber grips and cast wheels. Suitable for children over 8 years old.
Cllr John Chesworth, Cabinet member for Environment and Culture, said: "We know Halloween and the half term holiday won't be the same this year; the Pumpkin Trail is just a small, fun activity that will give children something to do, while exploring Tamworth town centre.
"We thank Britvic for the generous donation of the prize scooter, all children that hand their activity sheet back to the Castle Kiosk, will be entered into the draw.
"While completing the trail, why not add a visit to Tamworth Castle, open Wednesday – Sunday, 10.30am – 4pm. Or book tickets for a 'Lempen Puppet Theatre' show in the castle Great Hall, on Tuesday, October 27th at 11am, 12pm, 1pm or 2pm. 
"There are limited tickets available for this socially distanced, 25 minute puppet show, with an opportunity to meet the puppets at the end." Book now.