Enjoy live Bandstand music to end this year's summer programme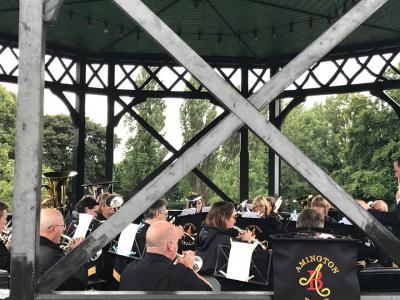 A favourite local band will be performing some classic and contemporary music from the Castle Grounds Bandstand as Tamworth Borough Council's hot programme of free Summer Bandstand Concerts 2019, draws to an end this weekend.
On Saturday August 31, people are invited to enjoy an afternoon in the park listening to the sounds of brass band music at its best. Amington Band has performed at the Castle Grounds regularly since 1917, entertaining Tamworth audiences for 100 years with their mixture of popular and classical band music.
A perfect back drop for a relaxing sunny afternoon, Amington Band will bring this year's programme of Summer Bandstand Concerts to a close with their variety of popular and traditional brass band music.
Organised by Tamworth Borough Council's Arts & Events team, the annual bandstand concerts tradition has seen the historic stage coming to life throughout the season with music and entertainment for all tastes.
The programme has been popular with both young and old, showcasing crowd-pleasing bands and vocalists. Don't miss out on this last act of the season.
Sponsored by Ankerside Shopping Centre, the concert is free of charge, so bring your picnic baskets and blankets down to Tamworth Castle Grounds for an afternoon of music. The performance will take place at intervals between 1pm and 4pm (subject to weather conditions).
Cllr John Chesworth, Cabinet member for Culture and Operational Services, said: "Whether you're taking a break from shopping or enjoying a picnic with friends and family, we'd love to see you there enjoying the music for another scorching performance this weekend."
The bandstand concerts are part of a great calendar of outdoor events organised by Tamworth Borough Council's Arts & Events team. For the full 2019 line-up please visit: http://www.tamworthartsandevents.co.uk/outdoor-events.