Fantasy Tree Trail tales to come 'to life' this month at Wigginton Park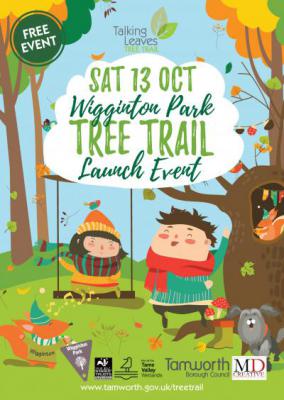 The countdown is on to the unveiling of a community project that has developed a 'tree trail' of fantasy stories and characters at an exciting live event in Wigginton Park on Saturday, October 13.
The Wigginton Park 'Tree Trail' captured the imagination of Tamworth residents following a series of workshops with local groups and schools last summer.
The Talking Leaves Tree Trail project, developed and supported by Tamworth Borough Council, Staffordshire Wildlife Trust, the Friends of Wigginton Park and MD Creative, worked with local groups since July 2017 to create a collection of stories about carefully selected trees around the park.
The idea is that visitors to the park will be able to find the trees on the trail and discover their individual stories and 'characters', including 'Woody Barker', 'Bok the Oakman' and the 'Graffiti Tree', as well as finding out about local history and different species of trees.
Participating schools and community groups took part in the workshops with Mal Dewhirst and Christine Genders from MD Creative to choose a tree and help create a character and story to go with it. These included: Stonydelph Community Café, Dordon Rainbows and Brownies, Shoebox Community Theatre, Coton Green Primary School, Birds Bush Primary School, Lark Hall Infant School, Upbeat Dance Academy, Flax Hill Junior School, Tamworth Rangers, Coton Green Pre School, Tamworth Guides and Dosthill Rainbows and Brownies.
The Tree Trail leads you through Wigginton Park where visitors will learn more about the nine trees on the trail. The one–off FREE launch event is open to people of any age and is the exciting opportunity to see artists and performers acting out the mythical stories from the tree trail booklet in a promenade performance.
To join the special free event, timed slots are still available to book. They will run every 20 minutes starting at 10am and running until 1pm and must be pre-booked at Tamworth Tourist Information Centre, Marmion House,  on 01827 709618 or via email: tic@tamworth.gov.uk.
The Tree Trail will start at Tamworth Rugby Club, (Wigginton Lodge, B79 8ED). Refreshments will also be available to purchase from the club during the event.
After the launch, the Tree Trail booklet will be available to download from the Tamworth Borough Council website so people can follow the trail and discover each tree's story at their leisure.
More information on the event, Wigginton Park and the trail leaflet can be found at: www.tamworth.gov.uk/treetrail.
Mal Dewhirst, a local poet, writer and film maker, is well known for his work with a variety of community projects and theatre in unusual spaces including building the Polesworth poetry trail. Christine Genders is a storyteller, actor and director who has years of experience working with community groups, amateur and professional theatre companies. Together with Janice Illesley, an experienced costume designer, they have worked to make the stories and magical tales created at the workshops, 'come to life.'
Mal, project lead said: "The groups have worked hard to create an exciting adventure that families can enjoy when they visit the park. Each group took part in workshops featuring crafts, discussing features, myths and legends surrounding their tree to create the story 'character' and its traits along with designing the character's costume and mask. 
Working with schools and groups in Tamworth, we have woven the threads of myth and legend into new stories. Participants, whose ages ranged from two to senior citizens, have all created the mystical world that has become the Talking Leaves Tree Trail."
Cllr John Chesworth, Cabinet member for Culture and Operational Services, said: "This exciting project has involved local groups to create stories that will inspire, educate and relate the community with the park land and the tree species. Children as young as two and adults up to 70 have all been able to contribute their ideas and designs.
"The launch of the trail will be a chance for all groups and local people to see the tree trail for the first time in its entirety. Local performers and dancers will bring the characters to life and help describe the tales of each tree.
"The Tree Trail is a wonderful new addition to Wigginton Park and will be a great way for people to spend some time outdoors with the family as they hunt for the trees and discovering more about this local beauty spot. We hope it will encourage more people to visit and enjoy this hidden gem."