Free theatre show for children coming to Tamworth Library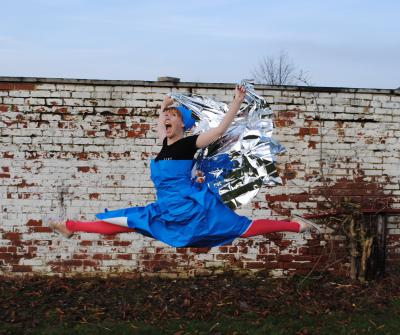 A princess who dreams of becoming an astronaut is at the centre of an 'exciting and interactive' FREE theatre performance taking place at Tamworth Library next week.
Fully Booked Theatre will be bringing their interactive dance theatre show Space Rebel Princess to the Corporation Street library on Saturday, September 1, with performances at 11am and 2pm.
Aimed at children aged between five and nine, and their families, the show tells the story of a princess raised for royalty not rocketry, who has rebelled against her strict upbringing to go in search of her long-lost grandfather by blasting into space – with the help of audience members.
Space Rebel Princess mixes retro science fiction with fast-paced physical comedy, featuring dance by esteemed performer, Jennifer Essex, accompanied by award-winning poet Harry Man.
This free performance marks the end of Tamworth Borough Council's current season of Touring Theatre, which has brought high quality professional productions to venues across the town.
All performances have been staged in familiar but unusual community locations in a bid to increase opportunities for people to experience the arts – particularly while the Tamworth Assembly Rooms theatre is closed for expansion and refurbishment.
Cllr John Chesworth, Tamworth Borough Council's Cabinet member for Culture and Operational Services, said: "This free show is a great opportunity for people to take their children to experience some live theatre in a community venue and I hope Tamworth families take advantage of the offer.
"It's a perfect day to visit Tamworth town centre, as the popular We Love Tamworth event will also be on in the Castle Grounds between 11am and 4pm, with loads of activities for all ages."