Hundreds enjoy movies under the stars in Tamworth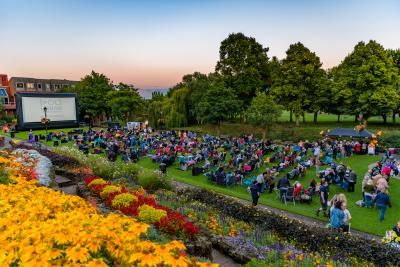 Audiences were on their feet singing and dancing under the stars in Tamworth's picturesque Castle Grounds during the popular Outdoor Cinema event on Saturday, August 10.
Despite earlier concerns about the weather, the event went ahead without incident, other than lots of singing, dancing, eating, drinking and fun for the screenings of Bohemian Rhapsody and Beetlejuice.
Hundreds of movie-lovers were rocked during the 9pm sell-out showing of the multi-award winning 2018 Bohemian Rhapsody film, charting the life of singer Freddie Mercury and the band Queen. The film had people on their feet singing and dancing as they enjoyed the legendary killer Queen music.
This was followed by a silent midnight screening of 1988 cult classic film Beetlejuice. 
Now in its seventh year, the annual Outdoor Cinema, organised by Tamworth Borough Council's Arts & Events team, has become a firm favourite in the town's calendar of events and is often a sell-out success. The 2019 offering, with films that were again chosen through a public vote, also went down well with the crowds.
Dozens of people took to social media with their feedback.
Rachel Reynolds said: "Brilliant film. Brilliant night. Loved the audience participation as well. Thanks." Shell Louise said: "We loved it. Singing & dancing, picnic…see you next year." Keri Healey said: "Fab night again. Looking forward to next year's." Jackie Harvey-Atkins said: "What a great evening! Worth the journey from Derby to meet up with the family. Thank you." Nicola Heywood said: "What a fantastic night! Enjoyed every moment." Margaret Jenkins described it as the 'best one yet'.
Lucy Harvey said: "Really enjoyed the late night showing of Beetlejuice, another great event, well done to you all."
Craig Martin Smith added: "Was our first time at a silent outdoor cinema and we loved it! Thanks for putting on such a great event. Definitely looking out for more in the future."
Cllr John Chesworth, Tamworth Borough Council's Cabinet member for Culture and Operational Services, said: "The summer outdoor cinema experience has been a real hit since it was launched seven years ago and, by the sounds of it, this year was no exception. The Arts & Events team again pulled out all the stops to put on another evening of summer entertainment, with food and drink on hand, in the beautiful setting of Tamworth Castle Grounds. I'm already excited to find out what next year's film choices will be."
For the full programme of outdoor events organised by Tamworth Borough Council's Arts & Events team, visit www.tamworthartsandevents.co.uk/ or Tamworth Arts and Events on Facebook.