Countdown is on to Tamworth in Bloom judging day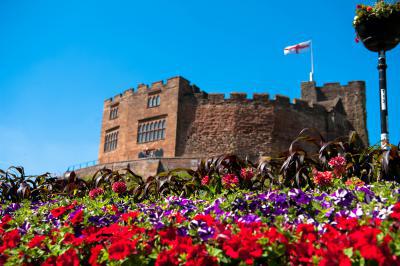 There is one week to go until the Heart of England in Bloom judges arrive to view Tamworth's fabulous floral displays, community projects and wildlife habitats.
Judges will visit Tamworth on Tuesday July 17 – as they take a tour of the town. The route will reveal the year of hard work, planning and planting by Tamworth Borough Council, residents, businesses and groups.
Tamworth is flourishing with colour in the hope that the borough will take gold for the ninth year running, in the regional Heart of England in Bloom campaign.
This year's campaign theme – Homecoming 2018, will celebrate three very important anniversaries - 100 years since the end of WW1, 100 years since Girlguiding Tamworth was formed and the1100th anniversary of 'The Lady of the Mercians', Aethelflaed's death in Tamworth.
The Moor Street traffic island at the end of Lichfield Street is now proudly displaying a stunning WW1 tribute, including a trench feature and beautiful raised flower beds.
The town's popular 3D floral figures have also been refurbished and due to return next week. Look out for the welcome return of the First World War soldier, the running man in the Castle Grounds and the Saxon soldier. All replanting work has been completed again by the R C Smith nursery in Mancetter.
The larger-than-life-size figures have become well-known to residents and visitors of Tamworth, forming a key part of the Tamworth in Bloom campaign.
Cllr John Chesworth, Cabinet member for Culture and Operational Services, said:  "I am delighted with how marvellous the borough is looking. The community have worked so hard and have really made Tamworth stand out and look stunning.
"Our Castle Grounds attract hundreds of people and I'm very proud of the feedback we receive. Residents and visitors really enjoy the results of the hard work and planning put in to our displays and floral figures. I'm sure the judges will be wowed again this year."
Tamworth residents are also encouraged to join the in Bloom celebrations by taking photos of their favourite floral display across the borough or sharing a photo of their own garden display, plant or basket on social media. All you have to do is upload your picture to Tamworth Borough Council's Twitter or Facebook page with the hashtag #TamworthinBloom and tagging @VisitTamworth.
Don't forget we still have our resident and sheltered housing garden competitions running during the 'in Bloom' campaign. The closing date for entries to both competitions is 12 noon on Friday, July 20. To enter just take a picture of your garden and either email it to Garden Competition at graphics@tamworth.gov.uk or drop a copy in to reception at Marmion House in Lichfield Street.