Huge Mercian Mosaic project to culminate in live unveiling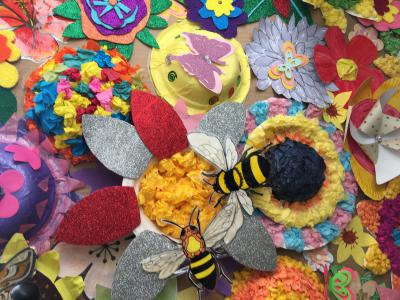 More than 18 months of planning, painting, creating and crafting by thousands of Tamworth people will come to an exciting and breath-taking conclusion next weekend when the 1,400-tile Mercian Mosaic is revealed for the first time.
Tamworth's largest ever community art project will be brought together piece by piece when it is laid out on the lower lawn of the town's Castle Grounds on Saturday, July 14, in a stunning 'live' reveal.
Each individually-decorated tile is one-yard square and when all 1,400 tiles have been laid out, they will cover a 70-yard by 20-yard area of the lower lawn. The sheer scale of the project means that no-one will see the mosaic in its full glory until it is brought together on July 14.
It is estimated that 10,000 Tamworth people of all ages and from all walks of life have contributed to Mercian Mosaic, whether that's decorating individual tiles, donating supplies, helping with logistics and planning, or engaging with the project to find out more.
Mercian Mosaic is an ambitious project by Tamworth Borough Council's Arts & Events team as part of Arts in Unusual Spaces – an initiative funded by Arts Council England which has aimed to bring art out into the community and encourage more people to get creative.
It has been led by Tamworth-based artist Maggie Carney, who was commissioned to come up with the intricate design celebrating Tamworth's rich Anglo Saxon history, incorporating landmark buildings, rivers and people, as well as details such as Tamworth pigs, dragons, fish, the Staffordshire knot and Mercian flag.
At the centre is Tamworth's 'Lady of the Mercians' Aethelflaed, who played a pivotal role in English history, building a chain of fortifications against Viking invaders throughout the Kingdom of Mercia.
This year marks the 1100th anniversary of Aethelflaed's death in Tamworth and the laying of the mosaic will form part of a weekend of celebrations to mark the occasion.
Maggie's base of operations has been at a unit in Ankerside Shopping Centre, where she has spent the last year working on the tiles and co-ordinating the thousands of volunteers who have contributed to the project. This includes people from schools, churches, community groups, sheltered housing schemes, the Women's Institute and hundreds more who attended open workshops throughout the project at the Ankerside base.
Maggie has also been helped by a core group of around 20 devoted 'Team Aethel' volunteers who have given around 820 hours of time between them to the project.
It is estimated that Mercian Mosaic has used 250 litres of paint, 50 litres of PVA glue, 100 rolls of double-sided sticky tape, 5,000 cable ties and much more.
While the first major goal has been achieved in that all tiles have been completed in time for the big reveal, the next major challenge will be the unveiling itself.
The 1,400 tiles have been tied together in smaller sections and around 30 volunteers will be involved in laying it out on July 14. This includes Team Aethel and members of Tamworth Borough Council's Arts & Events and StreetScene teams. The lower lawn will be marked out and sections of the mosaic will be carried out on to the lower lawn early in the morning on Saturday, with the hope that the completed design will be ready for people to view mid-morning.
Hundreds of children and adults who have contributed are expected to come along on the day to spot their tile and see how it fits into the bigger picture.
For Maggie, a former art teacher in the town, the culmination of the project will bring mixed emotions. She said: "It is really quite exciting now. I think I'm going to be quite emotional on the day. I have lived and breathed Aethelflaed for a long time now and the project has been in my thoughts and on my mind pretty much constantly for the last 18 months.
"I'm really excited about seeing it; although I've worked on it in sections, I haven't been able to see how it all comes together, so when I look down on it laid out on the lower lawn for the first time after all those months of hard work, I think that's going to be a really big moment.
"I'm now just hoping it all fits together and that there aren't any missing pieces or anything! There shouldn't be, but that's just one of those fears I have.
"This has been a real community project, with so many people getting involved or just popping in to the centre to find out what we're doing and to ask about Aethelflaed and our history. There are a lot of people who have donated their time regularly and I wouldn't have been able to get it all done without their help. I'm not sure what I'll do when it's all over – I think my interest in that part of our history will continue and I might explore it further. I'll definitely miss it, but it'll be a relief too if it all comes together successfully."
Weather permitting, the unveiling of Mercian Mosaic is planned for between 10am and 4pm, although teams will be out in the grounds laying it before then. The reveal is part of a jam-packed day of Saxon-themed family fun taking place in the Castle Grounds, including a Saxon encampment, coin making, parchment writing, jewellery making, crafts, storytelling and much more. There will also be a special Saxon Living History event in Tamworth Castle.
This is all part of a four-day programme of activities to mark the 1100th anniversary of the death of Aethelflaed in Tamworth. 'Aethelfest' takes place from Thursday, July 12 to Sunday July 15.
Cllr John Chesworth, Tamworth Borough Council's Cabinet member for Culture and Operational Services, said: "There's been a huge focus on Aethelflaed and the part she played in the making of England, as we marked the 1100th anniversary of her death in the town. Activities have included the unveiling of our brand new statue of Aethelflaed outside Tamworth Railway Station and the national service of commemoration held at St Editha's Church by The Tamworth & District Civic Society.
"These activities culminate in Aethelfest next week, with a packed four-day programme of talks, family fun, the Mercian Mosaic and an academic conference drawing scholars from across the world to talk about Aethelflaed.
"Mercian Mosaic has been a real labour of love and passion for the thousands of people who have taken part and has already succeeded in encouraging people to get creative and contribute to a huge community project.
"The live unveiling will be a spectacle in itself and this will be the first time the mosaic will be seen in its entirety by anyone. This is a huge occasion for Tamworth and we hope that all of these recent activities will go a long way towards promoting our rich and fascinating history and really help put the town on the map. I would encourage everyone to come along, watch history in the making and enjoy what promises to be a great family day out."
Mark Burbridge, Ankerside Shopping Centre manager, said: "It's been wonderful that so many have taken part in the Mercian Mosaic workshops. This community art project has brought people together from all different backgrounds and generations to celebrate Tamworth's extraordinary heroine, Aethelflaed, and to mark the 1100th anniversary of her passing. We are very much looking forward to the unveiling, which is set to be a brilliant event. It will be a very proud moment for everyone who has contributed to bringing the vision to full, vibrant life."
A brochure listing all the Aethelfest activities is available at www.aethelflaed.co.uk.