Panto coming to a magical new venue that has to 'be seen to be believed'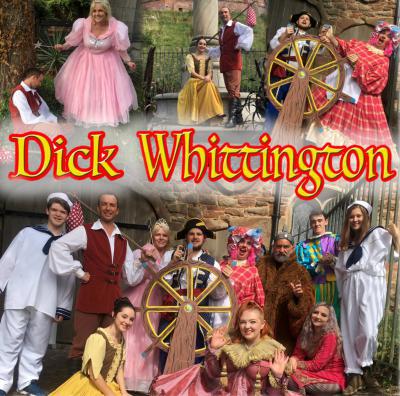 Tamworth Pantomime Company's 12-show run comes to Tamworth from December 15 and is promising to be bigger and better than ever before, in a brand new venue – QEMS Theatre.
This year's production of the popular Dick Whittington has all the ingredients for a fantastic show, performed for the first time at the Landau Forte Acacemy QEMS Theatre on the Ashby Road from December 15 to December 23 and the company promise you won't be disappointed by their choice of location.
Company manager, Alex Farrell, explained about the magical transformation of the QEMs theatre: "Tamworth theatre fans will be aware that the Assembly Rooms is still being renovated, so this year we decided to do something different.
"We have completely transformed the stage at QEMS to make it bigger and more magical, and if anybody has ever been to the 250-seat auditorium, they will be amazed to see that it has been well and truly pantomimed! We don't want to give away too much, but it will have to be seen to be believed."
Dick Whittington runs for 12 performances featuring songs, dances, laughter and some of Tamworth's best loved performers including Tamworth Castle's Olivia Shepherd (also known as our Aethelflaed!) starring as Dick Whittington's best friend, Cat; irrepressible baddie Terry Batham as evil King Rat and former ITV newsreader, now BBC WM presenter, Llewella Bailey as Spirit of the Bells. But the man playing the main part has come full circle back to the show he first starred in as a child.
Dick is played by 22-year-old Sam Beech, who first appeared in a Tamworth pantomime in 2001, aged five, when he played a ratling in Dick Whittington.
Sam said: "I'm thrilled to be back on stage and working with the Tamworth Pantomime Company!
"When I first started in Dick Whittington as a child, Terry Batham played the fabulous King Rat, and I'm so pleased that he is still in the company, and playing the terrifying baddie once again.
"Don't tell him, but I actually got his autograph when I was five years old, and I'm still a bit of a fan."
The Tamworth Pantomime Company has transformed the theatre at QEMS for this magical show, which follows the story of Dick and Cat as they seek fame and fortune, meet the hapless Dame Daphne Dumpling and Idle Jack, go on an adventure with Captain Barnacles and try and avoid the clutches of evil King Rat to win the hand of Alice Fitzwarren.
Alex, who plays Dame Daphne Dumpling in the show, said: "We really hope that our supporters can follows us to QEMS Theatre and enjoy this affordable and hilarious pantomime adventure.
"As usual, we have entertainment for all the family – slapstick and sweets for the kids, plus plenty of double-entendre and jokes for the adults – it is Dick Whittington after all - and the special effects are fantastic!"
Tickets are £14 adults, £9 children and concessions and £42 for a family ticket. They are on sale now online at www.tamworthartsandevents.co.uk, from the Tourist Information Centre in Marmion House or by calling the Box Office on 01827 709618. A transaction fee of £1 is payable on all online and telephone bookings.
Or visit www.TamworthPanto.co.uk.