Tamworth busy planting as 'in Bloom' takes shape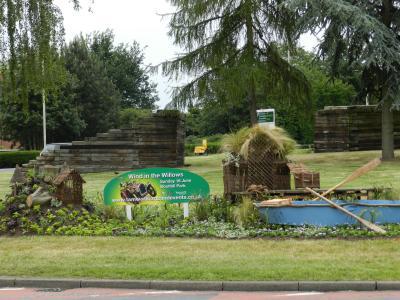 Street Scene teams from Tamworth Borough Council continue to be out in force over the next few weeks, working hard on the town's floral displays in a bid to help Tamworth achieve gold for the tenth year in a row in the Heart of England in Bloom competition. 
A year of hard work, planning and planting will soon reach its climax when the Heart of England in Bloom judges take a tour of the borough on Tuesday July 16.
This year's campaign theme – 'Blooming Tamworth' – More than just flowers, will celebrate everything that is great about Tamworth including its community, events and heritage, reflecting some of these in the Tamworth in Bloom flowers and events.
Moor Street island is starting to take shape with Street Scene teams working hard to plant an impressive tribute to the Assembly Rooms and historical events, including a raised flower bed with a Queen Victoria crest to celebrate the 200th anniversary of her birth with the Queen's favourite plant the viola, and other violet coloured flowers.
The other raised 'crest' flower beds on the island will also form special tributes to Blooming Tamworth, represented with the Tamworth 'T' and community projects such as the 'Communknitty' and the Urban Arts and Sports Festival. 
The third raised flower bed will pay tribute to Tamworth Assembly Rooms, which originally opened its doors in 1889, and some of the amazing acts that have graced the stage over the decades, including bands, tea dances and honouring the World War's when the venue was used as a parcel distribution station for soldiers. 
In addition to the crests, an extra special bed will display a 'Wind in the Willows' feature to highlight the Tamworth Arts and Events outdoor theatre production of the well-loved tale, taking place in Dosthill Park on Sunday, June 16. Tickets can still be purchased for this performance. You can get them online at www.tamworthartsandevents.co.uk, from the Tourist Information Centre in Marmion House, or by calling the Box Office on 01827 709618. Families can also discover the two-metre tall metal sculptures of the Wind in the Willows characters that have been created as part of this year's Tamworth in Bloom campaign and are dotted around Dosthill Park for people to find.
The Castle Grounds is also starting to bloom with the beautiful wisteria garden, the new sensory garden and the stunning raised flower beds beneath the bandstand showcasing the St George's flag, fireworks flower display and a tribute to the silver screen outdoor cinema. 
Tamworth residents are encouraged to join the in Bloom celebrations by taking photos of their favourite floral display across the borough or sharing a photo of their own garden display, plant or basket on social media. All you have to do is upload your picture to Tamworth Borough Council's Twitter or Facebook page with the hashtag #Bloomingtamworth and tagging @VisitTamworth. 
Cllr John Chesworth, Cabinet member for Culture and Operational Services, said: "Street Scene staff and many community and voluntary organisations and businesses are very busy preparing and planting for this year's Tamworth in Bloom.
"Residents and visitors to the town are definitely in for a treat as the Tamworth in Bloom displays take shape, but it's not just about the town's floral displays – we hope that people will get involved again across Tamworth to make sure that the whole borough is blooming and join our social media campaign #Bloomingtamworth to share a favourite photo of a stunning display, or send a garden competition entry to Marmion House reception.
"The community and our staff are all working exceptionally hard to portray Tamworth at its best and we hope that the judges will be impressed enough to award the town gold for the tenth year running."