Tamworth's 'What's On' launches with summer tunes this weekend at the Bandstand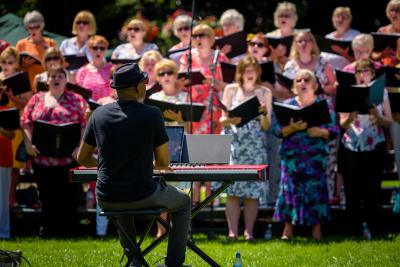 An exciting launch of the new anniversary 'What's On' brochure is taking place on Saturday, July 20, supported by a Tamworth Voices choir performance at the Castle Grounds Bandstand.
Tamworth Borough Council's Arts and Events Team will be out and about handing out the special edition, along with merchandise to celebrate the 130th birthday of the Tamworth Assembly Rooms and the re-opening of this historical building this autumn.
Look out for the team in Ankerside and Market Street from 10.30am, John Lewis entrance from 11am and Tamworth Castle Grounds from 12pm-4pm. Special guests on Saturday will be walking around the town including characters from the Tamworth Pantomime Company….Oh yes they will!
Once again, Tamworth Voices choir will be wowing audiences by putting a contemporary twist on the traditional choir and covering a wide range of musical styles including gospel, show-tunes and chart hits. The perfect backdrop to a relaxing afternoon, all free of charge.
Sponsored by Ankerside Shopping Centre, all Bandstand concerts are free, so bring your picnic baskets and blankets down to Tamworth Castle Grounds for an afternoon of music. Performances generally take place at intervals between 1pm and 4pm (subject to weather conditions).
Cllr John Chesworth, Tamworth Borough Council's Cabinet member for Culture and Operational Services, said: "The brochure launch lists an impressive line-up of events to celebrate the 130th anniversary of Tamworth Assembly Rooms and the exciting re-opening of this amazing historic building.
"Tamworth Voices offer the perfect afternoon of celebration with their contemporary twist on the traditional choir. It's great to see the choir go from strength to strength since they were formed in 2011.  
"Everyone is invited to enjoy a lovely afternoon of entertainment this Saturday in the stunning Castle Grounds. Also, look out for members of the Arts & Events team around the town to get a copy of the new What's On brochure and some new Tamworth Assembly Rooms goodies."
The remaining 2019 Bandstand line-up is as follows:
Sunday July 21 - Jones Jazz Orchestra

Saturday July 27 – Tamworth Musical Theatre Company

Saturday August 3 – The Tones

Saturday August 10 – Phil England and Friends

Saturday August 17 - 58s Blues Band

Saturday August 31 – Amington Band    
The bandstand concerts are part of a great calendar of outdoor events organised by Tamworth Borough Council's Arts & Events team. For the full 2019 line-up please visit: http://www.tamworthartsandevents.co.uk/outdoor-events. Or pop into Marmion House to collect a brochure.