Town centre businesses invited to bring Christmas cheer with festive windows competition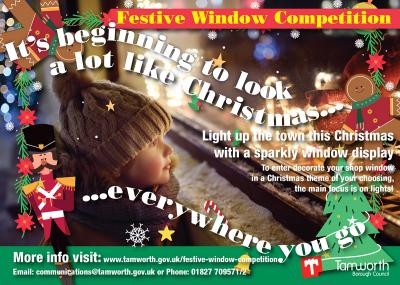 Local shops and businesses are invited to join in with a Festive Window display, to help bring Christmas cheer to everyone visiting the town this December.
With the current Covid-19 restrictions this year and the national lockdown restrictions from Thursday, November 5th - December 2nd, we all know that Christmas is going to feel a little different and we are going to miss some of the usual festivities. But that won't stop us trying to bring some Christmas cheer to the town with a new Festive Window Competition.
Tamworth Borough Council's Arts and Events team are calling on all town centre businesses and shops to join in the festive spirit and go all out in decorating their shop windows this year as part of our competition.
The aim is for the town centre to shine and sparkle in all the colours of Christmas, giving families, residents and visitors from surrounding areas, more reasons to shop local this Christmas.
Businesses are encouraged to take part by decorating their shop window in any Christmas display/theme of their choosing – but make sure it's as bright as possible, incorporating lights and sparkle!
To enter fill in our online entry form. Displays should be revealed and lights switched on by December 4th.

The festive campaign will be hosted on our Visit Tamworth website and social media channels and shared across local media platforms, with photos of shop displays. 
All participating businesses will be listed on the Visit Tamworth web page as well as promoted on our social media platforms throughout December.

Members of the public will be asked to vote for their favourite display via social media and judges (including the Mayor of Tamworth and a Radio Tamworth DJ), will walk around town towards the end of December to choose their favourite
As well as the honour of being the best, winners will get additional free publicity on Visit Tamworth pages.