Visit Tamworth for half-term Easter holiday fun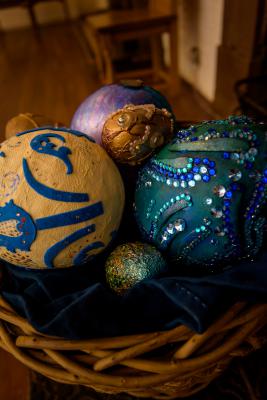 There's plenty to keep families entertained in Tamworth during the Easter half-term, from dragon egg hunting and musical comedy, to free craft activities and sports.
If you're looking for things to keep the children entertained next week, the Visit Tamworth website is a great place to start. It's full of ideas and has a busy What's On section, as well as highlighting some of the fantastic attractions the area has to offer.
For 'egg-stra' family fun, head to Tamworth Castle for the special egg hunt between April 13 and April 28. Ruby the Castle Dragon has disguised her eggs so that the dastardly dragon hunter will be unable to detect them and Hafgrim, Ruby's brother, has hidden the eggs. Visitors are invited to help find the eggs to receive a small prize.
Free activities include the popular St George's Day extravaganza, which this year is being held on Saturday, April 20. This annual celebration brings together a host of activities for all the family and attracts thousands of visitors each year. Don't miss the new live-action medieval jousting team and a living history encampment featuring a host of medieval games. Other new additions to the programme are a fire-breathing dragon and children's craft activities including 'The Big Sow' – where families are invited to take part in 'Blooming Tamworth' and help sow seeds on the Riverbank.
As part of the month-long campaign for Blooming Tamworth, Ankerside Shopping Centre will be hosting a variety of creative sessions for the whole family to take part in.      
This will include a shield-making craft on Tuesday, April 16, run by Community Together CIC; the Big Sow event on Saturday, April 20 and on Tuesday April 23, green-fingered visitors will be able to get stuck into a gardening workshop.
There will be the opportunity for people to receive sunflower seeds, plant pots and tips on how to grow their own, with the option to do this either at the unit or to take away a kit to plant the seeds at home.
Mark Burbridge, Centre Manager at Ankerside Shopping Centre, said: "With so many great things to do this Easter break, Tamworth is set to have a truly brilliant time.
"Our shield-making session will get visitors into the spirit of St George's Day, and The Big Sow offers a great chance for the community to have direct input for a stunning showcase of flowers for Blooming Tamworth.
"Our gardening workshop is also a fantastic way for families to spend quality time together learning all about growing and nurturing plants. It will hopefully inspire people to continue this at home and become a new hobby.
"Thousands of event-goers are expected to join the celebrations for St George's Day and we're very excited to welcome everyone to Ankerside."
Other activities listed on Visit Tamworth include cycle hire, a big bounce at Wilnecote Leisure Centre, activities at Middleton Hall and a packed programme at Ash End Children's Farm.
If you fancy a traditional Easter Sunday bonnet parade, then turn up to Bolehall Manor Club on April 21, for games, prizes, disco and chocolate eggs. This event will help raise funds towards the costs of this year's Tamworth Carnival.
Get ready for the musical classic 'Annie' which will be performed at Landau Forte Academy from April 17 to April 20. Tamworth Musical Theatre Company presents this hit production set in 1933 New York during the grip of The Great Depression and follows the story of a fiery young girl, Annie, who lives in an orphanage run by the strict and cruel Miss Hannigan. This production is guaranteed to get audiences singing along to well-known classic songs such as 'Tomorrow' and 'Hard Knock Life'.  
There's also plenty on offer at the wide variety of Tamworth attractions including Tamworth Snowdome, Thomas Land, Jump Xtreme, Namco Funscape and Monty's Indoor Adventure.
When the sun is shining, Tamworth is a great place to get back to nature with an abundance of nature reserves and country parks to explore; perfect for a sunny spring walk.
Visit www.visittamworth.co.uk for more information, including dates, times and prices where applicable. Or visit the Facebook page www.facebook.com/VisitTamworth/ or Twitter @VisitTamworth.
Groups, bands, organisations, attractions and businesses are invited to advertise their events free of charge on the Visit Tamworth website. Visit the What's On page for more information.