Visit Tamworth for half-term holiday fun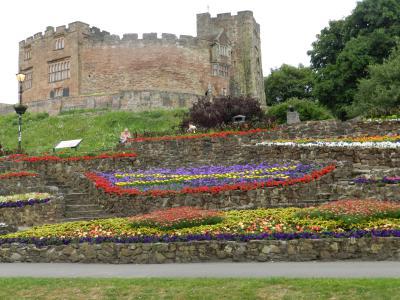 There's plenty to keep families entertained in Tamworth during the half-term, from castle questing and outdoor theatre, to free craft activities and sports.
If you're looking for things to keep the children entertained next week, the Visit Tamworth website is a great place to start. It's full of ideas and has a busy What's On section, as well as highlighting some of the fantastic attractions the area has to offer.
For a family fun challenge, head to Tamworth Castle for the special Castle Quest between May 27 and June 2. Based on a series of challenges throughout the castle, questers will encounter cunning characters and tricky trials, each of them revealing a secret word.
Recording the words and trading them with the Quest Master results in participants winning the opportunity to take the ultimate challenge to walk the grid…blindfolded. Succeeding will not be easy but those who are prepared to take the risk will win a rare reward that cannot be bought, only earnt by those who are worthy.
A craft market will be open in Ankerside Shopping Centre during Saturday, May 25 and Sunday, May 26, offering a fabulous range of small, local businesses offering a mix of arts and crafts stalls.
A packed week of free activities will be hosted at the Community Together CIC Hub in the Castle Grounds. Find out more from their website at: www.communitytogethercic.org.uk
For physical activity in the great outdoors, Tamworth is a great place to get back to nature with an abundance of nature reserves and country parks to explore; perfect for a sunny walk, bike ride and to enjoy a picnic. Why not visit Dosthill Park and explore the new 'Wind in the Willows' sculpture trail?                                                                                                                             
Get ready for Tamworth's 'Streets Eats and Beats' event to hit St Editha's Square on May 31 from 5.30pm. This event will be hosting world street food traders, bars, local acoustic musicians and DJs.
On June 1, a truly fun-packed day is planned in the Castle Grounds. Together 4 Tamworth is pleased to announce the return of The Tamworth Carnival for the second year running. This is a family community event offering a fun fair, live entertainment and food and refreshments will be available to purchase.
Other activities listed on Visit Tamworth include cycle hire, activities at Middleton Hall and a packed programme at Ash End Children's Farm - including unicorn and JCB days.
There's also plenty on offer at the wide variety of Tamworth attractions including Tamworth Snowdome, Drayton Manor, Jump Xtreme, Namco Funscape and Monty's Indoor Adventure.
Sarah McGrandle, Assistant Director of Operations and Leisure for Tamworth Borough Council, said: "Tamworth has so much to offer when it comes to family and child-friendly activities to keep the boredom at bay during the school holidays. The spring half-term is no exception and we'd encourage people to visit some of our great local attractions."
Visit www.visittamworth.co.uk for more information, including dates, times and prices where applicable. Or visit the Facebook page www.facebook.com/VisitTamworth/ or Twitter @VisitTamworth.
Groups, bands, organisations, attractions and businesses are invited to advertise their events free of charge on the Visit Tamworth website. Visit the What's On page for more information.