Visit Tamworth for summer holiday fun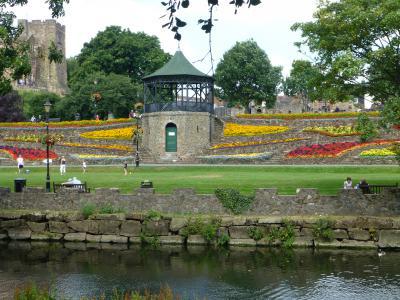 There's plenty to keep families entertained in Tamworth during the summer holidays, from castle living history and outdoor cinema, to live music, free activities and sports.
If you're looking for things to keep the children entertained during the next six weeks, the Visit Tamworth website is a great place to start. It's full of ideas and has a busy What's On section, as well as highlighting some of the fantastic attractions the area has to offer.
For family fun, head to Tamworth Castle for the special Living History events between July 24 and August 23, including Saxon, Medieval and Georgian life. Join the castle between August 14 -16 and August 21-23 to commemorate the centenary of the end of World War 1. Find out if you would have been medically fit to join the soldiers on the front line, learn about war time communications and have a go at decoding secret messages, or spend time playing with the games and toys from this period.
Enjoy an evening of movies under the stars, as the popular Outdoor Cinema returns to the picturesque Castle Grounds on August 4. This year, audiences can enjoy a showing of Top Gun, at 9.15pm, to be followed by a showing of Labyrinth at 11.45pm. A few tickets are still available online at www.tamworthartsandevents.co.uk, in person from Tamworth Information Centre in Marmion House, Lichfield Street, or by calling the Box Office on 01827 709618. A transaction fee of £1 is payable on all online and telephone bookings.
For FREE sporting activities, Tamworth Community Safety Partnership is offering a free programme of summer sports activities across venues in the borough during the school holidays.
The activity programme - Space - is aimed at 8 to17 year-olds and runs from Monday, July 23 until Friday, August 31.
Activities include boxing, Street Sports, Jump Xtreme, Get Wild, Aerial Hoop sessions and beat box and street dance art. Full details and timetable can be found at: www.safertamworth.org/events
This is in addition to the programme of activities being organised as part of Tamworth Borough Council's annual summer Playscheme.                                                                                                                                    
Get ready for Tamworth's 'Streets Eats and Beats' event to hit St Editha's Square on July 27 and August 31, from 5.30pm. This event will be hosting world street food traders, bars, local acoustic musicians and DJs.
Tamworth Castle Grounds Bandstand programme of FREE entertainment continues on weekends throughout the summer, so bring your picnic baskets and blankets down to the grounds for an afternoon of music. Performances take place at intervals between 1pm and 4pm (subject to weather conditions).
The remaining 2018 Bandstand line-up is as follows:
Saturday August 4 - Liquid Brass

Saturday August 11 - Tamworth Jazz, Blues, Country, Folk and Roots

Saturday August 18 - 58s Blues Band

Saturday August 25 -  Bryan Brindley & Friends
The bandstand concerts are part of a great calendar of outdoor events organised by Tamworth Borough Council's Arts & Events team. For the full 2018 line-up please visit: http://www.tamworthartsandevents.co.uk/outdoor-events.
Tamworth Fake Festivals are back for 2018 on Saturday, August 25, from 12pm. Last year, the Fake Fest totally rocked, so this year they are doubling the line-up to SIX pro-level fake bands. Tickets are available online via: www.fakefestivals.co.uk
We Love Tamworth is back on September 1 at the Castle Grounds from 11am, boasting fairground rides, Children's Zone, stalls, games, inflatables, a dog show and much more.
If you are interested in booking a stall for this event please contact Mark Kyte at Tamworth Lions: mark.kyte@tamworthlions.org.uk . 
Other activities listed on Visit Tamworth include cycle hire, activities at Middleton Hall and a packed programme at Ash End Children's Farm - including unicorn and JCB days.
There's also plenty on offer at the wide variety of Tamworth attractions including Tamworth Snowdome, Drayton Manor, Jump Xtreme, Namco Funscape and Monty's Indoor Adventure.
When the sun is shining, Tamworth is a great place to get back to nature with an abundance of nature reserves and country parks to explore; perfect for a sunny walk.
Cllr John Chesworth, Cabinet member for Culture and Operational Services, said: "Tamworth has so much to offer when it comes to family and child-friendly activities to keep the boredom at bay during the school holidays. The summer is an exceptional time to enjoy the great outdoors and beauty that Tamworth has to offer. We would encourage people to visit some of our great local attractions, or take advantage of the free activities such as the Space programme, Bandstand music, and not forgetting the picnic and play areas in the stunning Castle Grounds."
Visit www.visittamworth.co.uk for more information, including dates, times and prices where applicable. Or visit the Facebook page www.facebook.com/VisitTamworth/ or Twitter @VisitTamworth.
Groups, bands, organisations, attractions and businesses are invited to advertise their events free of charge on the Visit Tamworth website. Visit the What's On page for more information.