Out and about in Tamworth under the 'new normal'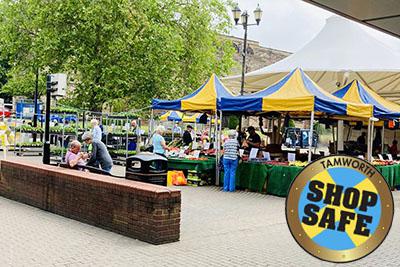 We have all heard the term 'new normal', but what does that actually entitle us to do in our local area?
Here at Visit Tamworth, we wanted to help you all to navigate the new normal, to stay active, to see friends and loved ones safely, and to piece together our daily lives and activities whilst still saving lives.
In Tamworth, we are really fortunate to be surrounded by beautiful parks and countryside, whilst also having the perks of a bustling market town and many independent and larger food chains that are operating under government guidance, to provide us with tasty produce and a safe service. 
We have spent some time putting together a little 'lockdown' guide to what visiting and enjoying Tamworth currently looks like. With the summer holidays looming, we really hope this inspires you with some socially safe activities and places to visit.
Lockdown and litter
Before we share, we would like to take a minute to kindly request that when you are out and about, to please keep the spaces clean and tidy. From a Covid-19 perspective, this really needs addressing to prevent further spread of the virus through littering, but also for keeping our wildlife and plants safe. It is also important for keeping the area nice and tidy so other people can enjoy some much needed time away from the home, without being met with mess to taint their experience.
We appreciate that the Council are in charge of the bins, but due to the volume of people out and about at this time, the bins are getting much fuller, much quicker, making the task more difficult to keep on top of. As such, we kindly ask for your support at this challenging time, to take any litter home with you that cannot go in a bin. We do apologise for any inconvenience, but we think it is important to act together and stand as a community to keep Tamworth safe and tidy for the health and wellbeing of everyone.
Thank you in advance! On that note, we return to the fun part -socially safe activities!
Socialising at a social distance
Castle Grounds: Set next to our amazing historic castle, Tamworth Castle Grounds provides the perfect place for a picnic with friends and family at a socially safe distance. The rose garden, flower beds, and picturesque walks along the river will provide simple, but pleasant entertainment as you can amble the hours away in nature.

Why not look for specific flowers, or birds, or see if you can find the anchor and the Aethelflaed statue? There is plenty of ways to make walks interactive and fun whilst the playpark, outdoor gym and crazy golf are all currently closed. Please note, the opening hours of public toilets and changing places is currently restricted to Tuesday, Friday, Saturday Sunday only. www.tamworthcastle.co.uk/castle-grounds.

Tennis Courts. Under government guidelines, tennis is permitted. Why not come and enjoy a socially safe game of tennis at the castle grounds? Although racket hire is currently off limits, if you have your own racket and ball, you are more than welcome to hire the court for a good blast of fresh air, competitive spirit and exercise. Courts can be book at the Activity Centre: www.facebook.com/CastleGroundsActivities/
 
Cycling – We will go on to share several amazing cycle routes, but for those without a bike of their own, you are able to hire bikes safely with David Owen who operates from the castle grounds. You can learn more about this great service here: 

www.facebook.com/daveowencycles


 
Cycling Routes:

Why not take to your bike for a good expedition, whilst also getting some exercise? Whether you are looking for a long and challenging route, or something more family friendly, Staffordshire County Council has this great resource for you to find the best routes for you 

www.staffordshire.gov.uk/Transport/cycling/Documents/Tamworth-Borough-Issue-5.pdf

. Check out this link to plot your own cycling adventure:

https://cyclemap.staffordshire.gov.uk/


 
The Planet Walk: If you're looking for something a little fun and educational, whether you have little ones or not, the Castle Grounds Planet Walk is ideal to take your walking route to another dimension. Start from the sun sculpture in the grounds and follow the red rockets laid on the path. A great way to give you a feel for how our solar system is organised. 
 
Local Nature Reserves: Tamworth is home to some seriously stunning nature reserves. Bursting with wild flowers, birds and other wildlife, they provide the perfect setting for a day in nature. Thank you to Tamworth Borough Council and Wild About Tamworth for teaming up to improve these wild spaces for us all to enjoy. Check out the different options here. Why not set yourself a task of visiting all of them? Taking plenty of photos on your visits of course! www.visittamworth.co.uk/nature-reserves-country-parks
 
#30DaysWild – Although this a June initiative organised by the fantastic Wildlife Trust, it would be worth continuing to utilise their resources to learn more about nature once June has ended. Their social media pages and website are full of PDFs that you are able to print screen and print off for FREE, to help you to find wildlife and plants to give your outdoor time a sense of focus, whilst learning new and interesting facts. Win, win!
 
Photo Challenge: Why not set yourself a photo challenge, to take a photo of a tree, a building, a lake, a shop, a sunrise, a sunset, whatever it may be, to document your walks, whilst also injecting something different into your daily strolls? Why not set up a competition with friends and family, to see who can take the best photograph and frame it in in your home, or give it as a gift? Even if you don't turn this into a competition, it is a great hobby and chance to hone in on your creative side.
 
Circular Walks – A big thank you goes to Tamworth Valley Wetlands for doing the research and putting together 10 amazing circular walks. Whether you are looking for a short lunch time stroll, or a longer, more challenging hike, the routes share options ranging from 1.5 miles up to 7 miles. Of course, you can use these as a guide, and always add your own twists and turn to the adventure.

www.tamevalleywetlands.co.uk/circular-walks/


 
Town centre with a twist: Rather than heading into town and spending the day in one place, either in a park or at the Castle Grounds, why not complete our moderately challenging town centre walk, which shows you the main cultural and historical points in the town, alongside highlighting areas of natural beauty before finishing in the castle grounds? Why not reward yourself with a kiosk treat at the end, or head back into town for a cake, coffee or some take away fish and chips? Plenty of food outlets are now operating in town, giving you an opportunity to make a day of it, without having to lug round a picnic.
 
Painting in the park: Ever thought of taking some paints, watercolours, or colouring pencils and drawing what you can see in one of our local Tamworth parks? You don't have to be Picasso, but escaping into nature and getting creative is great for your mental well-being. Alternatively, you could take a colouring book, and enjoy a few hours of quiet colouring.
 
Reading – Set up camp with a flask of coffee and a great book, and spend your time relaxing in one of our many parks, nature reserves, or by the river to really inject an afternoon or day of calm. There really is nothing like getting lost in a good book! If you don't like reading, why not write? Use the space you are sat in to inspire a story and get scribbling down your ideas.
 
Park life: As well as Local Nature Reserves, Tamworth has many great parks for you to explore and enjoy at your leisure. If you are a dog owner, these are also a great place to bring your pet for a nice walk. This

Walk on the Wildside

leaflet shares recommendations for beautiful park walks, and gives you guidance on which parts of the parks to enjoy depending on the time of the year. Enjoy!


 
Wigginton Park Tree Trail: Another great walk in one of Tamworth's lovely parks. You can use this trail to discover the stories of each tree character, including 'Woody Barker', 'Book Oakman' and the 'Graffiti Tree'. This is a great way to learn more about the trees www.visittamworth.co.uk/discover-fantasy-tree-trail-tales-wigginton-park
 
A spot of retail therapy – Ankerside shopping centre is now reopen to a select few shops who are able to operate safely under the 'new normal', which means If you fancy a day of retail therapy, you are now able to go shopping. Please mindful to stay alert, wash your hands regularly, and stay a safe distance away from others outside of your own household. You are able to discover which stores are open here: https://bit.ly/2Yo5uJg
 
Food, glorious food! – Many larger and smaller food and drinks outlet are starting to open their doors to offer their services under the strict guidance of the 'new normal'. There are far too many amazing food and drinks outlets to list here, but out Facebook Page offers a great way to stay up-to-date with this information. We have to say, we can't resist a homemade slice of cake, or a traditional fry-up! Food always tastes better when someone else cooks it, right? www.facebook.com/VisitTamworth/
Several venues are now starting to re-open, so please check out our What's On pages for the latest events. www.visittamworth.co.uk/whats-on
We hope this little lockdown round-up has given you lots of inspiration. Please let us know in the comments if you have given any of these suggestions a go, and what you thought. We also welcome photos of what you have seen and found. If you have any great walks, or cycle routes, please do share to help spread the word to others, so they too can enjoy the great outdoors. Have fun, stay alert, and thank you for your continued efforts to keep Tamworth safe, clean, and a space for us to be proud of and to enjoy.